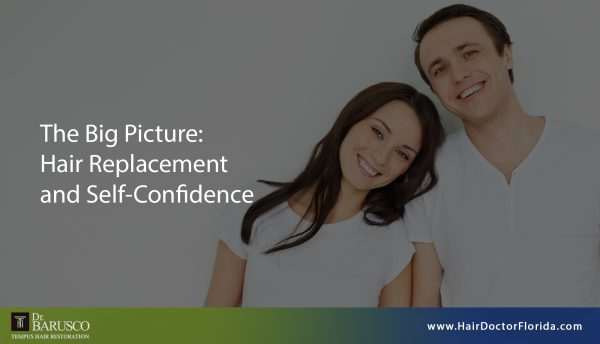 The topics of our Tempus Hair Restoration blog posts often cover specific hair transplant procedures or reasons why hair transplants are now increasingly popular. However, there is a fundamental reason that men have hair restoration surgery: to improve their self-confidence.
Society has always expected men to be emotionally strong and impervious to self-doubt, anxiety and insecurity about their ability to achieve their goals. But experiencing hair loss can have an effect that's more demoralizing than most care to admit. Understanding that you have the right to pursue an appearance that makes you feel better about yourself and your place in the world is essential in taking the steps to improving your self-esteem and emotional health.
Does Hair Loss Really Affect Self-Esteem?
You've probably heard friends and family members say, "It's only hair. It's not that important." Although they're trying to be supportive, scientific data validates your feelings about your receding hairline or balding crown.
Multiple studies have linked male pattern hair loss to lowered self-esteem and decreased confidence. An article for WebMD written by journalist Marta Manning and medically reviewed by Jennifer T. Haley, MD, FAAD, cites a 2019 study published in the International Journal of Trichology. The study found that androgenic alopecia (genetic, a.k.a. male pattern baldness) lowered the quality of life for many men, with particular effects in the areas of self-perception and interpersonal relations. A 2018 research study published in the Journal of Cosmetic Dermatology identified low self-esteem in many patients with androgenic alopecia and found that confidence can improve after hair transplantation treatment.
"Hair loss in men can affect self-esteem to the extent that a man believes his appearance to be an important part of what makes him a worthwhile or valuable person," psychologist Paul Greene, PhD, says. "For men who are very invested in their appearance and who identify as a younger-looking man, hair loss can significantly impact self-esteem."
In the same WebMD article, general practitioner and medical advisor Nikola Djordjevic, MD, says, "Hair loss has been affecting men's self-esteem for centuries, if not longer. Long thick hair during ancient times was a symbol of masculinity and vitality, so it makes sense that men are psychologically affected by hair loss nowadays as well. Hair loss symbolizes aging and debility, which is why I think that men start feeling more depressed as their hair starts falling out."
Does a Negative Perception of Balding Men by Other People Affect Your Self-Confidence?
You may receive the well-intentioned pep talk that it doesn't matter what others think about your hair loss, as long as you feel good about yourself. Yet that can be hard to do in a society that clearly favors men with a full head of hair in the job market, on the dating scene and in many other situations. Our blog post – "Does Hair Loss Hurt Your Career?" – covers the findings of formal studies and polls that confirm a societal bias against men experiencing hair loss. This blog post cites a survey by job search website Ladders, which was conducted by Dove Men+Care. The survey found that of the 2,000 men who participated, the majority tied their work identities to their hair. The article reports the following results and observations.
"In the hair census, 8 in 10 men said that their hair made them look professional, the look of it was important, and that their hair helps them feel confident. Perhaps the majority of these men are preoccupied with their hair because they recognize what science has found: that societies judge men on how much hair they have on their heads."
In addition, a study in JAMA Facial Plastic Surgery found that a few more hair follicles can make all the difference between people seeing you as a success or a lost cause. Researchers at Johns Hopkins University recruited participants to compare photos of men before and after they received a hair transplant. Although they were looking at the same men, participants rated men after they got their hair transplants as more attractive, approachable and successful.
Video Conferencing – Nowhere for Balding Men to Hide
Even though the peak of the COVID-19 pandemic is over, the trend for job interviews and meetings to be held virtually through such videoconferencing apps as Zoom shows no signs of reversing. But whether you're interviewing or videoconferencing with coworkers and clients, that flattened-out, washed-out on-screen image is unflattering to most people. Add hair loss to the equation, and the picture looking back at you in that little square can have a very unsettling effect on your self-image and self-confidence. An increasing number of prospective hair transplant patients specifically name Zoom as the motivation that brings them to the surgeon's office.
From Ridicule to Approval – The Changing Attitude Toward Men Who Have a Hair Transplant
Not so long ago, society judged men who had a hair transplant harshly – considering them vain or trying desperately to hold on to youth. Fortunately, public opinion has changed to approval, with the recognition that the desire to enhance one's appearance is based in the strive toward achieving greater self-confidence.
Unfortunately, early hair restoration procedures were crude by today's standards, producing outcomes that were obviously not the result of natural growth. Instead of achieving the youthful look they had sought, hair transplant recipients often were subjects of ridicule. The International Society of Hair Restoration Surgery (ISHRS) made the following observation.
"In the old days (think 1980s), there was no mistaking who had a hair transplant. The telltale corn row, doll hair, pluggy-looking hair transplants of yesteryear were — believe it or not — once considered state-of-the-art. But that was well before the evolution of hair transplantation. Over the last 20 years, hair restoration techniques have evolved considerably. These techniques have become so refined and results so natural-looking that most people cannot tell if someone has even had a hair transplant."
Dr. Marco Barusco – Founder and Chief Medical Officer at Tempus Hair Restoration – has been at the forefront of advanced hair restoration procedures, having developed such techniques as the groundbreaking no-shave FUE. Short for follicular unit excision, the no-shave FUE completely conceals harvested donor sites immediately, allowing you to resume your regular activities with virtually no evidence of the procedure.
Going one step beyond the no-shave FUE is the long-hair FUE. It is also known as the "preview" long-hair FUE because it gives the patient a preview of what the ultimate result will be. As with any hair transplant, the hair in the newly implanted grafts soon falls out, to be replaced by new growth as the grafts establish themselves. Dr. Barusco is one of only a few doctors in the world with the experience and skill to perform this technique.
Another leading-edge, yet proven procedure is the combined FUE and FUT (follicular unit transplantation). This technique covers large areas of baldness in a single surgery. Patients with advanced hair loss are typically required to undergo multiple hair transplant procedures to obtain coverage of their entire bald scalp – having to wait one year or more between procedures. This allows patients to achieve their ultimate goal sooner, with one procedure versus many.
Choose Your Surgeon Wisely and Reclaim Your Self-Confidence
Despite today's advancements in hair restoration procedures, bad hair transplants are still out there. Conduct your research into hair transplant surgeons carefully. Our blog post – "Is Your Hair Transplant Surgeon Qualified? What You Need to Know" – will help you make an informed decision. When the reflection in the mirror reflects you as you see yourself, you're ready to face the world with renewed confidence!
Ultimately, choose your surgeon based on experience, results and integrity. Dr. Barusco's long list of accomplishments, his notable artistic ability and his successful surgical team make Tempus Hair Restoration a renowned practice. Contact us to schedule your free virtual consultation. Dr. Barusco conducts every consultation himself, giving you the opportunity to learn your options in the comfort of your home – or any location, on any internet-enabled device. 
Dr. Barusco conducts consultations in English, Spanish and Portuguese. For your greater convenience, Tempus Hair Restoration offers a two-night complimentary hotel stay to out-of-town clients who travel 100 miles or more to our Port Orange, Florida, surgical center. No matter how far the distance, we welcome the opportunity to help you on your hair restoration journey!