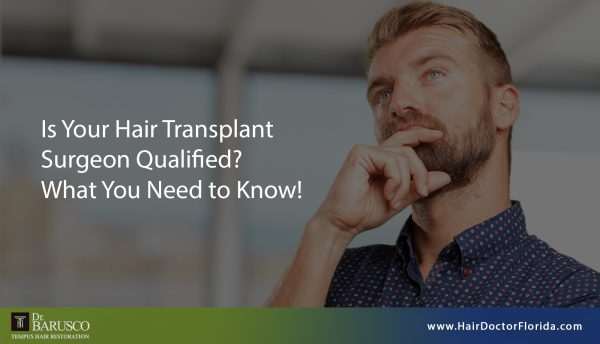 You may consider yourself a savvy consumer who arms yourself with as much knowledge as possible before making a major purchase. Unfortunately, however, many people seeking a hair transplant choose a clinic or practice based on its advertising. But slick, expensive ads don't guarantee that the doctor (or doctors) have the qualifications, education, experience and skill to achieve the desired result – or even follow safe practices.
Regular readers of our blog are familiar with our oft-repeated advice, "Choose your surgeon wisely." Here, we'll tell you what you need to know about researching doctors, and which questions to ask during the consultation – as well as red flags that warn you to keep searching!
Why You Need to be Careful When Choosing a Hair Transplant Surgeon
Although a hair transplant procedure is outpatient surgery performed under local anesthesia while the patient remains awake, it is still surgery. Complications and bad outcomes can occur. Given the nature of hair replacement surgery, a poor result may not be obvious until new growth occurs. Even more insidious are cases in which the procedure appears to be successful, but additional hair loss over time can't be addressed because too many hair follicles were harvested from the donor area of the scalp, thereby depleting the supply of available hair when another transplant becomes necessary.
There is an increasing tendency for people to have too casual an attitude toward elective cosmetic surgery procedures of every type. Much of this attitude can be attributed to social media – which promotes images of physical perfection while delivering the message that cosmetic procedures are commonplace, and an easy way to achieve such an image for yourself.
Add to this situation the number of hair restoration clinics proliferating in every town. Some are heavily advertised national brands with clinics throughout the United States, while others are more regional. In addition, many plastic surgery practices have added hair restoration as a profitable revenue stream. Walking into such a clinic or practice (either actually or virtually) assuming that the surgeon you'll consult with has the qualifications, experience and aesthetic ability to understand and achieve your goal may put you at risk. In effect, you are placing your trust in a brand name, rather than an individual surgeon.
Plastic surgeons also should not be assumed to be equally proficient in performing hair transplants. As our blog post – "Don't Let a Technician Perform Your Hair Transplant Surgery" – states, "… a plastic surgeon may perform great liposuctions and facelifts and be an authority on these procedures, but have no experience in hair restoration surgery."
In fact, you may be surprised to learn that the field of surgical hair restoration is not regulated by either the United States government or the medical community. According to the American Hair Loss Association, any licensed physician can legally perform hair transplant surgery without any prior surgical training or accreditation of any kind.
How to Find a Qualified Hair Transplant Surgeon
A valuable online resource for anyone considering a hair restoration procedure is the International Society of Hair Restoration Surgery (ISHRS). This is a global non-profit medical association, and the leading authority on hair loss treatment and restoration. With more than 1,000 members throughout 70 countries worldwide, the ISHRS is dedicated to achieving excellence in patient outcomes by promoting the highest standards of medical practice, medical ethics and research in the medical hair restoration industry. The ISHRS offers objective, unbiased information, and does not accept advertising or affiliate links.
The ISHRS website provides free resources for consumers – such as its Find a Doctor database. This is maintained and updated with the name, location, contact information and link to the ISHRS member page of each doctor.
Dr. Marco Barusco – Founder and Chief Medical Officer of Tempus Hair Restoration – is a Fellow of the ISHRS. This is a distinction that is only given to those ISHRS members who achieve certain landmarks on teaching and leadership. Currently, fewer than 10% of the ISHRS members are Fellows.
In conducting research on individual surgeons, the ISHRS recommends learning about the surgeon's training, credentials and experience in the field of hair restoration. Start this process by visiting the website of each surgeon you're considering. Some of the following points should be in the physician's biography or elsewhere on the website:
Training and Credentials
From what medical school did the physician receive his/her M.D. (Doctor of medicine, allopathic medical), D.O. (Doctor of osteopathic medicine) or M.B.B.S. (Bachelor of medicine, bachelor of surgery, also abbreviated as, M.B.Ch.B.) degree?

What year did he/she receive the medical degree?

When was the physician licensed to practice medicine? Is he/she licensed to practice medicine in your state in which the treatment will take place?

Where (hospital or medical center) did the physician complete his/her internship and residency training?

Did the physician have additional training in a medical or surgical specialty after completing residency?

Is the physician board certified or a diplomate of a legitimate certifying board?

Learn more about what this means

.

Does the physician hold membership in their related specialty professional society? For hair restoration surgery, this is the International Society of Hair Restoration Surgery. Do they attend scientific conferences and workshops? Membership and attendance in such societies is not essential, but it is an additional indication of commitment and advanced training.
Experience
How long has the physician been doing surgical hair restoration procedures?

How many hair restoration procedures has the physician done? How many of the specific type you may consider having done?

How many hair restoration procedures does the physician currently do per month? A busy practice can be one indication that a surgeon is skilled and well respected by patients.

Is hair restoration surgery the physician's only practice, or does the physician perform other types of cosmetic surgery? This question may be important to ask for two reasons: (1) if hair restoration is only part of an overall treatment you think you may need-for example, hair restoration and treatment to remove facial wrinkles and sun-damaged skin-a dermatologic or plastic surgeon will be able to consult with you regarding the overall treatment, and (2) to determine whether the surgeon performs enough hair restoration surgery to maintain his/her skills.

Will the physician, on request, provide names of patients who are willing to be references for the physician?
It is also important to understand that unqualified, non-medical technicians and other staff are increasingly performing hair transplant surgery using robotic devices to harvest and implant hair follicles. The practice is becoming so prevalent, that consumers have come to accept this as a legitimate situation – which it is definitely not. This is a significant problem that the ISHRS – and Tempus Hair Restoration – works to educate consumers about. On its Consumer Advocacy page, the ISHRS urges potential patients to ask the following questions during consultation, as well as questions regarding costs, risks, and short and long-term benefits and planning:
Who will evaluate my hair loss and recommend a course of treatment? What is their education, training, licensure, and experience in treating hair loss? Only physicians, Physician's Assistants and Nurse Practitioners are legally allowed to diagnose a patient and to recommend medical treatments. Otherwise, the person recommending procedures and/or treatments is practicing medicine without a license, a Felony crime in Florida and many other states.

Who will be involved in performing my surgery, what role will they play, and what is their education, training, licensure and experience performing hair restoration surgery?

Will anyone not allowed by the State Medical Board be making incisions or harvesting grafts during my surgery? If so, please identify this person, explain their specific role and why they are legally permitted to perform it.

Is everyone involved in my surgery covered by malpractice insurance?
Dr. Barusco's informative article about the risks of hair restoration procedures performed by unqualified technicians using robotic devices covers this issue in greater detail – including his experiences in working to correct the results of transplants botched under these circumstances.
"My practice has always been very busy with patients coming in for repair of procedures performed by other doctors. But in the last few years, I have seen a sharp increase in patients coming in for me to repair or replace hair transplants that were not done by experienced hair transplant surgeons, but by robots and/or by unqualified people under poor or no supervision of a qualified physician. In some cases, patients did not even know the name of the doctor they chose, but they knew that they had a robotic "procedure" or the new FUE device 'procedure.' This is so wrong, it makes my skin crawl."
Red Flags to Watch Out For
Unethical practices are out there. The ISHRS has issued an alert regarding misleading and improper messaging as marketed by hair restoration surgeons. We encourage you to read the entire alert for additional information. Pay close attention to claims on websites and advertisements. If you encounter any of the following, immediately look elsewhere!
Scarless surgery

No incision

No touch

No cutting

Cloning

Hair multiplication

Non-invasive

Eliminates the need for additional procedures

Pain free

Guaranteed results

Unlimited grafts

No risk
Now That You Have Knowledge, You Have the Power to Choose Your Surgeon Wisely!
While you may be getting subtle – and not-so-subtle – messages from social media and society in general that aesthetic surgical procedures are quick and easy with little to no risk, the surgeon you trust to restore your hair, self-image and self-confidence needs to be selected with great consideration. There is no shortcut to achieving a worthwhile goal.
Ultimately, choose your surgeon based on experience, results and integrity. Dr. Barusco's long list of accomplishments, his notable artistic ability and his successful surgical team make Tempus Hair Restoration a renowned practice. Contact us to schedule your free virtual consultation. Dr. Barusco conducts every consultation himself, giving you the opportunity to learn your options in the comfort of your home – or any location, on any internet-enabled device. 
Dr. Barusco conducts consultations in English, Spanish and Portuguese. For your greater convenience, Tempus Hair Restoration offers a two-night complimentary hotel stay to out-of-town clients who travel 100 miles or more to our Port Orange, Florida, surgical center. No matter how far the distance, we welcome the opportunity to help you on your hair restoration journey!