For many people, battling hair loss has been a long, frustrating process. The initial concern over thinning hair when you first notice it eventually takes on greater urgency as the loss becomes more apparent. However, the first step you may take – or may have already taken – in stopping the process (including a hair transplant) does not necessarily lead to a satisfactory result. Yet, as many people have learned, persistence can lead to success in achieving the desired aesthetic outcome of fuller, healthy hair.
Dr. Marco Barusco – Founder and Chief Medical Officer at Tempus Hair Restoration – has treated many such patients during his more than 20 years of practice as an internationally renowned hair restoration surgeon.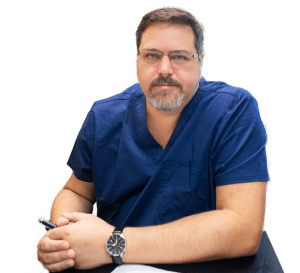 In this exclusive interview, Dr. Barusco speaks out about his experience in helping people achieve success at the end of a long road filled with detours – and offers advice for those just embarking upon the journey.
Q: How common is it for you to treat patients who tell you they've tried "everything" to restore their hair, but no doctor has been able to successfully treat them?
Dr. Barusco: It is very common for me to see patients in these situations. Primary care doctors in general don't have time (or interest, for that matter) in hair loss, so often when a patient asks about their hair loss, they refer to a dermatologist. We have quite a few doctors who are our patients, who refer patients directly to us for evaluation and treatment.
Many patients visit a dermatologist, who usually will provide them with a few options to treat their hair loss. Other than trichologists (doctors who, like us, specialize in hair loss diagnosis and treatment), dermatologists usually know more about the different types of hair loss one may have, and are well-equipped to diagnose their hair loss properly. But they can only go so far, if they do not offer surgical options for hair loss. So at that point, they refer patients to us.
Q: Is there a commonality to the failure of previous treatments that your patients share with you? Did they try to diagnose and treat themselves with over-the-counter medications? Did they visit an "assembly line" hair restoration center, or a doctor who doesn't specialize in hair restoration? Or were there cases in which the surgeon had an overall good reputation, but lacked the necessary in-depth knowledge/experience?
Dr. Barusco: I have seen all of the above. The internet today is full of "solutions" for hair loss, and people can order products online very easily. Sometimes they visit a hair restoration practice, but do not actually see the doctor. Instead, a "consultant" sees the patient and gives the recommendation for treatment. In our area (Orlando), there are a few practices who do this. It is important to remember that diagnosing a patient is a job reserved to a physician – or a nurse practitioner/physician assistant who works under the supervision of a physician – so many times we see patients who were misdiagnosed by these "consultants" and have had procedures that were contra-indicated in their condition. Honest healthcare practitioners will refer their patients to specialists if they are not sure of the diagnosis before prescribing treatment, be it surgical or not.
Q: What were the procedures you used for these patients?
Dr. Barusco: The first thing to do is to break the "mistrust" barrier. Patients who have been misdiagnosed or talked into doing a procedure for the incorrect diagnosis are normally skeptical of another professional. Once that barrier is surpassed and trust is established, the next step is to obtain an extensive and detailed medical history of the hair loss, including all treatments that were tried and/or are still being used.
Since hair may be affected by other health conditions, a thorough evaluation of the patient's medical history, current and past medications, etc. is also necessary and can usually provide clues to the hair loss. By the time all this information is gathered, a good, experienced physician should be able to have a few likely diagnoses in mind. Then, a detailed exam of the hair and scalp (and, if needed, other body systems) will either validate or eliminate certain diagnoses.
If not completely sure, lab tests and/or scalp biopsies may need to be done to arrive at the final diagnosis. Only then a treatment plan can be recommended.
Q: What would you like people who are currently in this situation to know? What advice do you have for them?
Dr. Barusco: I think that the most important thing is to get good, reliable information from a specialist. Most hair loss specialists offer free consultations, so it is easy to see someone. Of course, before choosing a professional, one should check their credentials in the specific areas of hair loss, trichology and hair restoration surgery.
The Tempus Hair Restoration Difference
Dr. Barusco places great emphasis on the free consultations he offers, making the process as convenient as possible. He personally sees every potential patient at each of Tempus Hair Restoration's 14 locations throughout Florida, and also conducts consultations through online video conference via Skype, FaceTime or WhatsApp.
Even in video conferencing, Dr. Barusco himself meets each patient – never a technician, non-medical staff member or "consultant."
Unlike other practices, Dr. Barusco treats one patient at a time and personally performs each hair transplant surgery. Continuing to innovate, Tempus Hair Restoration is proud to be the first dedicated hair restoration practice in Florida to offer stem cell hair loss therapy using a combination of PRP (Platelet Rich Plasma) and Stromal Stem Cells (SVF).
Recognized as a leader in this field, Dr. Barusco has the honor of being a member of the research team for the STRAAND clinical trial. This FDA-registered study is investigating a breakthrough treatment for hair loss that has the potential to be the next generation of the existing PRP and adipose-derived stem cell therapy Dr. Barusco currently offers. Dr. Barusco is one of only four hair restoration surgeons nationwide on this distinguished research team, and the only one based in Florida.
Learn more about Tempus Hair Restoration
You are invited to learn more about the innovative surgical and non-surgical hair restoration procedures that Dr. Barusco offers at Tempus Hair Restoration – as well as schedule your free consultation. Avoid the pitfalls of pursuing ineffective treatments and under-qualified medical (and quasi-medical) practitioners by doing informed research before proceeding. Whether it's your first step or last mile, your hair restoration journey will be shorter when you make the right decision.