Specializing in Hair Transplants for Men
Society has always expected men to be emotionally strong and impervious to self-doubt, anxiety and insecurity about their ability to achieve their goals. But experiencing hair loss can have an effect that's more demoralizing than most care to admit. You have the right to pursue an appearance that makes you feel better about yourself and your place in the world. When performed by a skilled, conscientious surgeon, a hair transplant procedure can restore your self-confidence as well as your hair. Today's hair restoration techniques are so refined and results so natural-looking that most people can't tell if someone has had a hair transplant.
Hair transplant surgery for men includes a wide range of options that need to be navigated by an experienced hair restoration surgeon in order to achieve the best result – both short-term and long-term. Dr. Marco Barusco – founder and Chief Medical Officer of Tempus Hair Restoration – is an award-winning board-certified hair transplant surgeon with more than 25 years dedicated exclusively to hair restoration. His extensive credentials include Assistant Professor of Surgery – University of Central Florida College of Medicine; Fellow of the International Society of Hair Restoration Surgery (ISHRS); Global Clinical Scholars Researcher, Harvard Medical School; and author of chapters for medical textbooks and clinical studies.
While there are many causes for hair loss on the scalp, those most common among men are genetic – specifically, androgenic alopecia, which is commonly known as male pattern hair loss – and traumatic, such as scarring from an accident and/or surgery. In both situations, finding the best hair transplant clinic for men is essential to achieving the desirable look of healthy natural growth.
Dr. Barusco has been at the forefront of advanced hair restoration procedures, having developed such techniques as the groundbreaking No-Shave FUE. Short for follicular unit excision, the no-shave FUE completely conceals harvested donor sites immediately, allowing you to resume your regular activities with virtually no evidence of the procedure.
Going one step beyond the No-Shave FUE is the Long-Hair FUE. It is also known as the "preview" Long-Hair FUE because it gives the patient a preview of what the ultimate result will be. Dr. Barusco is one of only a few doctors in the world with the experience and skill to perform this technique.
Dr. Barusco also performs the following hair transplant procedures:
Follicular Unit Excision (FUE) – In this procedure, follicular units (hair grafts) in groupings of one, two or three hairs are individually extracted from the back of the head (donor area) using small circular punch blades instead of a scalpel. The grafts are then transplanted to the thinning or balding areas of the scalp. Once the desired number of grafts are obtained, the donor sites are left to heal without suturing. The resulting scars are not readily visible and are easily concealed even by very short hair.
Follicular Unit Transplantation (FUT) – Also known as the "strip" method, the FUT procedure has undergone refinements over the years so that the only evidence is a pencil-line linear scar easily concealed by hair – even at a shorter length. Although many hair transplant practices encourage patients toward the FUE, there are circumstances in which the FUT will produce the more successful outcome.
Combination FUE and FUT – This technique covers large areas of baldness in a single surgery. Patients with advanced hair loss are typically required to undergo multiple hair transplant procedures to obtain coverage of their entire bald scalp – having to wait one year or more between procedures. This allows patients to achieve their ultimate goal sooner, with one procedure versus many.
Express Yourself with a Beard Transplant
In the case of facial hair, the motivation for a beard transplant is different than restoring hair to a balding scalp. Instead of hair loss being the issue, it's a matter of the hair's failure to grow enough to produce a full beard – resulting in a patchy appearance. A beard transplant can also be useful in concealing facial scars, as hair can't grow in scar tissue.
For facial hair transplants, the surgeon's technical skill must also be matched by a strong aesthetic sense in order to select hairs from the right portion of the scalp – typically the sides and back of the head, where the hair most closely matches the texture of facial hair – and placing each hair follicle at the proper angle and direction to achieve the effect of natural growth. Dr. Barusco has helped numerous men get the beard they want to fully express their self-image to the world – be it hip, intellectual, rugged or edgy.
Why Choose Tempus Hair Restoration and Dr. Barusco for Your Hair Transplant?
You may have experience buying cars, but not searching for a surgeon to perform your hair transplant. The surgeon and practice you choose makes an important difference. Unlike many clinics, Dr. Barusco performs each procedure himself, and schedules only one patient at a time, so you have his complete focus throughout your surgery. He does not use robotic devices operated by non-medical assistants to harvest and implant hair grafts. We invite you to read his eye-opening article on this topic – "The Truth Behind Advertising Devices Instead of Surgeons" – to learn more.
Also, our surgical center in Port Orange, Florida, provides a controlled, sterile environment for a safe, comfortable experience for all patients – and allows Dr. Barusco to perform the more complex procedures necessary for head trauma patients undergoing hair restoration.
Ultimately, choose your surgeon based on experience, results and integrity. Dr. Barusco's long list of accomplishments, his notable artistic ability and his successful surgical team make Tempus Hair Restoration a renowned practice. Dr. Barusco's clients are international as well as national. For men's hair transplants in Florida, Tempus Hair Restoration has satellite locations in Orlando, Winter Park, Maitland, Lake Mary, Windermere, Lake Nona/UCF College of Medicine, UCF main campus, Tampa, Jacksonville, Sarasota, Ponte Vedra Beach, Vero Beach, Port St. Lucie and Boca Raton.
Whether you're looking for men's hair loss treatment in Orlando or anywhere in the world, contact Dr. Barusco to schedule your free virtual consultation. Dr. Barusco conducts every consultation himself, giving you the opportunity to learn your options in the comfort of your home – or any location, on any internet-enabled device.
Dr. Barusco conducts consultations in English, Spanish and Portuguese. For your greater convenience, Tempus Hair Restoration offers a two-night complimentary hotel stay to out-of-town clients who travel 100 miles or more to our Port Orange surgical center. No matter how near or far the distance, we welcome the opportunity to help you on your hair restoration journey!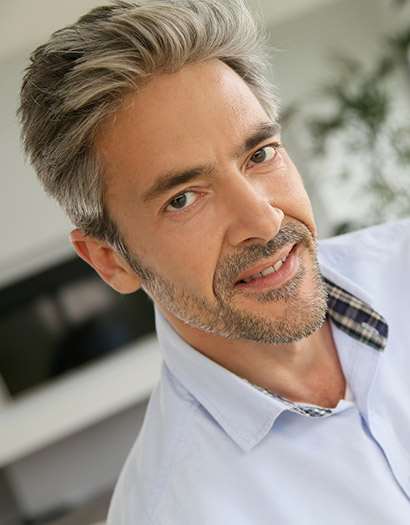 We specialize in hair loss treatment for men for restoring full, healthy hair.