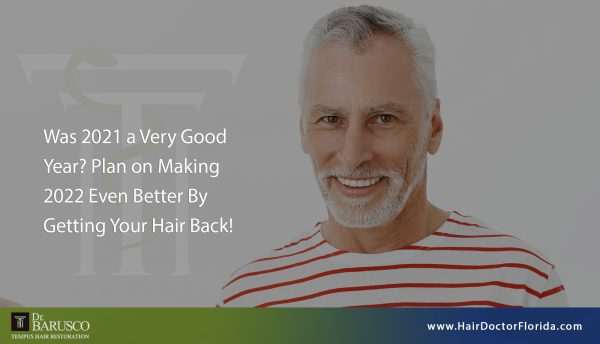 As the world began to reopen in 2021, the plans that had to be postponed during the height of the COVID-19 pandemic were resumed. Yet even if 2021 was a good year for you, perhaps some goals still had to be put off – for example, a hair restoration procedure. If this was the case, 2022 can be the year you get your hair back!
Should a hair transplant be on your new year's resolutions list, you need to be up-to-date on the significant advancements that have been made in the hair restoration field. As you begin researching your options, be aware that not all hair transplant surgeons or clinics offer every procedure – especially those requiring significant experience and top-level skill. Also keep in mind that even such popular procedures as the Follicular Unit Transplantation (FUT) and Follicular Unit Excision (FUE) demand an experienced surgeon to achieve the desired aesthetic result. Avoid the pitfall of assuming that because the FUT and FUE are well-established procedures, all surgeons perform them equally well.
Advancements in FUE
Hair transplantation is constantly evolving. Improvements in techniques and technology make possible outcomes that not only look like natural hair growth, but involve less patient downtime. Developments in FUE provide an excellent example.
To start at the beginning, FUE is a surgical hair transplant technique in which follicular units in groupings of one, two or three hairs are individually extracted from the back of the head (donor area) using small circular punch blades instead of a scalpel. The grafts are then transplanted to the thinning or balding areas of the scalp. Once the desired number of grafts are obtained, the donor sites are left to heal without suturing.
One aspect of the procedure that can be a downside is that it requires the donor area be shaved in order to harvest each graft. For many, this can be a difficult, embarrassing process because of appearing in public with a half-shaved head. Some patients may have to take time off work in order to allow their hair to grow back.
For this reason, Dr. Marco Barusco – Founder and Chief Medical Officer of Tempus Hair Restoration – developed the innovative No-Shave FUE, which completely conceals harvested donor sites immediately, allowing patients to resume their regular activities with very little downtime. Dr. Barusco has produced an informative video for his YouTube channel, "Hair Loss Medical Advice," that describes the procedure in detail.
Now, going one step beyond the no-shave FUE is the long-hair FUE. It is also known as the "preview" long-hair FUE because it gives the patient a preview of what the ultimate result will be. As with any hair transplant, the hair in the newly implanted grafts soon falls out, to be replaced by new growth as the grafts establish themselves. Dr. Barusco is one of only a few doctors in the world with the experience and skill to perform this technique.
Dr. Barusco explains the procedure in his Hair Loss Medical Advice video, Long-Hair FUE.
"It started with my good friend, Dr. Marcelo Pitchon from Brazil. I'm from Brazil originally. He popularized the method of the long-hair transplant with the strip method a few years ago. Nowadays, with the advantage of certain types of equipment that we have, they allow us to harvest hairs via FUE and still maintain the hair shaft at the same length that it was – one or two inches in length sometimes – and then we can use that length inside, keeping the hair instead of clipping it short. And then when we transplant, the patient has a preview of their result. Obviously, this only lasts for a few days, since most of the hairs that we transplant fall out during the healing phase – but it allows the patient to have an idea of what the result is going to be like.
"It also allows me, as a surgeon, to see that I'm not missing anything. Maybe I need to add a bit more density in a little area that I'm working on. The surgery is very laborious and time-consuming to perform because the longer hair gets in the way, so it requires a lot of patience and skill."
How Can You Know if an FUE Procedure is Right for You?
Because the traditional shaved FUE and no-shave FUE are well-known procedures, those interested in a hair transplant often request them. However, the type of hair transplant procedure that's best for your particular situation may be different. Only a consultation with an ethical, conscientious surgeon who asks the right questions can help you determine the procedure that will provide the optimum immediate and long-term outcome. Our blog post – "Is the FUE Procedure Right for You?" – covers facts and possible risks (mainly from non-medical personnel performing the procedure) so that you can have a more productive consultation and be confident in your decision.
For even more in-depth information, watch Dr. Barusco's videos – "Formal Indications for Hair Transplantation via FUE" – and "Contra-Indications for Hair Transplantation via FUE" – which covers the situations in which FUE is not (or should not be) recommended.
Choose Your Surgeon Wisely, and Get 2022 Off to a Great Start
If you're determined to no longer delay restoring your hair, you deserve to know all of your options – and have an internationally recognized surgeon providing the right, and the best procedure for your individual situation.
Ultimately, choose your surgeon based on experience, results and integrity. Dr. Barusco's long list of accomplishments, his notable artistic ability and his successful surgical team make Tempus Hair Restoration a renowned practice. Contact us to schedule your free virtual consultation. Dr. Barusco conducts every consultation himself, giving you the opportunity to learn your options in the comfort of your home – or any location, on any internet-enabled device. 
Dr. Barusco conducts consultations in English, Spanish and Portuguese. For your greater convenience, Tempus Hair Restoration offers a two-night complimentary hotel stay to out-of-town clients who travel 100 miles or more to our Port Orange, Florida, surgical center. No matter how far the distance, we welcome the opportunity to help you on your hair restoration journey!