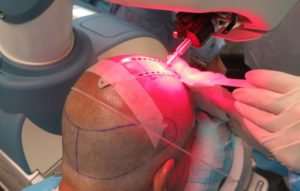 The cons of the NeoGraft™ and ARTAS™ machines are rarely discussed. Operator error is discussed even less frequently. Over the years, it would be fair to say that I've developed a unique perspective on the NeoGraft™ and ARTAS™ machines. Simply put, I've had to repair or replace several hair transplants that were not done by surgeons, but by robots and/or by unqualified people.
I meet with patients every day who have trusted the ARTAS hair transplant system and the NeoGraft machine with their hair and their health, and now need me to fix what's been done to them. Sometimes I can help them, but sometimes I can't. A bad liposuction or a bad breast surgery can at least by hidden from view. A bad hair transplant cannot. And what is even worse, is that these patients are coming to me not only with poor results on their hairline, but also terrible scarring and thinning of their donor hair (the limited supply of permanent hair we use for transplants) caused by taking too many hairs with incisions that are larger than they should be.
What the NeoGraft Does
Frankly, the NeoGraft business model involves recruiting doctors with little to no experience in hair transplantation and selling them a machine that they don't even have to bother to learn how to use—your entire procedure at these practices will be performed by technicians sent by NeoGraft. Instead of an accomplished hair surgeon, someone with possibly less medical training than a dental hygienist will be sucking hair out of your skin and sticking it in your skull. In my opinion, technicians performing these aspects of hair transplantation surgery are effectively practicing medicine without a license, a third-degree felony in the State of Florida. The doctor who allows them to do it in their practice is also aiding and abetting the illegal practice of medicine, and may lose his or her medical license and/or face felony charges. In fact, the State of Florida recently passed formal regulations reinforcing this.
What the ARTAS System Does
With ARTAS, a robotic arm makes large punches in the skin to remove follicles from the donor area. The margin of error may be large enough that a surgeon has to switch mid-procedure to a manual extraction. Follicle damage rates are high. The machine's large punch creates larger incisions than a skilled surgeon would, producing more trauma and scarring. Finally, ARTAS is a machine, and cannot provide the constant small adjustments needed to create a natural-looking transplant, which is the outcome you're looking for.
The Bottom Line for Your Hairline
When it comes to your body, the caveat "buyer beware" is crucial. Don't look for quick fixes for your appearance, and don't consider a practice who sees you as less of a patient and more as a means to make money. When you come to your hair transplant, you can rest assured that I, as a medical professional with over 20 years' experience, will perform your surgery personally—and will personally guarantee your safety, your comfort, AND your results.
Learn more from the International Society of Hair Restoration Surgery about the serious risk when unlicensed personnel perform hair restoration surgery.