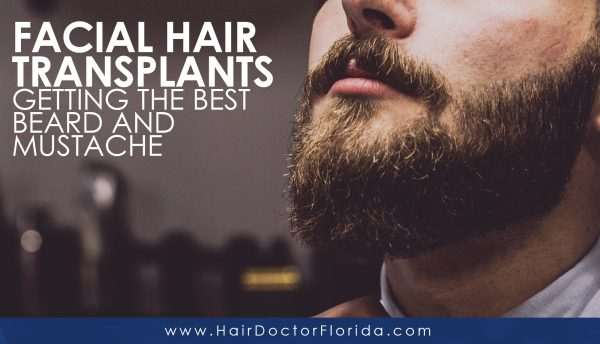 November is a special month for many reasons – Thanksgiving being the most obvious. But thanks to some very committed people, it's also known as Movember. Started by the non-profit Movember Foundation, this annual observation held every November since 2003 focuses on raising awareness of men's health issues. Dedicated to early detection and life-saving treatment, Movember has a fun side to its serious cause. Men are encouraged to grow a moustache, share photos of their 'stache on social media and tell others about how men can live healthier, longer lives.
Whatever month of the year it is, however, many men like the distinctive masculine look that facial hair bestows. For those with sparse facial hair who are challenged in being able to grow a moustache, full beard, goatee or sideburns, a facial hair transplant may offer the ideal solution.
Also, men who have facial scars may no longer be able to grow hair over them, resulting in a patchy, uneven effect for those wanting a beard or moustache. This relatively new area of hair transplantation surgery achieves permanent, natural-looking results that can give you the beard of your dreams – provided you choose an experienced surgeon who knows hair growth patterns and has a high sense of aesthetics.
Dr. Marco Barusco – founder and Chief Medical Officer of Tempus Hair Restoration – is among the world's leading surgeons performing facial hair transplants. As an award-winning board-certified surgeon with more than 20 years dedicated exclusively to hair restoration, Dr. Barusco uses his advanced procedures to fill in areas where facial hair is thin, or to subtly conceal facial scars. Because it's important to know that the techniques for facial hair transplantation differ from those used for the scalp, Dr. Barusco takes care to educate potential patients about what the procedure involves.
Why can't I grow a beard?
But first things first. Certain myths persist as to why some men experience only light facial hair growth. Genetics is the reason, but not in the way that may be expected. Men start to develop facial hair – which is regulated by testosterone – during puberty, and it doesn't fully mature until their early 20's. The interaction between testosterone and the hair that already exists causes it to grow thicker and darker.
And here is where the myth enters. It is typically believed that men who can grow a beard have a higher testosterone level – but in reality, most men have about the same level of testosterone. What makes the difference in facial hair growth is how one's body responds to testosterone – which is genetically determined. Being highly sensitive to testosterone results in more facial hair. On the down side, it contributes to baldness.
"Genetics is the main factor," says Dr. Barusco. "Even men with a family history of a full beard may have thin, patchy areas."
In his experience with facial hair transplant patients, Dr. Barusco has found that sparse growth and patchy growth are equally prevalent conditions – and normally coexist in the same patient, who can have areas of sparse growth (defined as a low density of hairs), as well as areas where the beard is patchy.
Dr. Barusco finds that the recent trend for facial hair is shaping attitudes regarding the inability to grow the desired amount. Unlike the negative associations of baldness, Dr. Barusco notes "there is nothing against a clean-shaven man." However, he says, "facial hair has become more of a fashion in the last few years. An interesting factor is that while hair loss in the scalp makes a man look older and therefore it is not desired, a beard or goatee will also age a man, but many opt to have it … myself included."
Which should not be surprising. According to Domen Hrovatin, self-proclaimed "facial hair addict" and contributor to Balding Beards, facial hair – particularly beards – signify masculinity, strength, intelligence, confidence and a balance of sensitivity and edginess. Such positive qualities, of course, have been desirable long before the age of the hipster.
As for what type of facial hair his patients most frequently seek, Dr. Barusco says the most common requests are for a goatee and cheeks. "Many men can grow a satisfactory mustache, but often the mustache does not connect with the goatee, or they have sparse hair on their cheeks and can't grow a full beard."
What a facial hair transplant involves
The hair for facial hair transplants is typically harvested from the sides and back of the head, which are the same areas used in normal hair transplant surgery for bald and thinning areas of the scalp. The difference is that the hair removed is usually from lower down toward the neck, where the hair quality is more compatible to that of facial hair. This includes planning the angle and direction of hair for the most natural looking results. Dr. Barusco understands how hairs from different areas of the body behave, and has the skill and artistry to harvest those that are the best match, and ensure the hair follicles are angled correctly when transplanted.
"The challenges with transplanting into the face are many," says Dr. Barusco. "From a technical standpoint, the most crucial is the angle and direction in which the hairs have to be placed to produce a natural result that will allow the patient to grow it long, if they so desire.
"Another aspect of the facial hair transplant is the donor area selection. Most of the time, we use scalp hairs from the safe donor zone, and the patient may need these hairs in the future, should they develop male pattern baldness. This factor becomes more important because most of the patients looking for facial hair transplants are young men. If the area(s) to be filled are small and few grafts are needed, we may use beard hairs, which are usually harvested from under the chin, as the source of donor hair."
As Dr. Barusco takes great pride in his ability to conceal facial scars, he notes the considerable challenges it involves. "When transplanting into scars, I have to always be careful with blood supply, so hair grafts need to be placed further apart to guarantee growth. Patients who do hair transplantation into scars are always warned that they may have to do one more procedure for final hair density into the scar. But when done correctly, hairs will grow well in scarred areas."
Healing of both the recipient and donor areas is typically complete in one week. Transplanted hairs will fall out two to three weeks after surgery. This is normal. New, permanent growth will begin within three to four months. Once permanent growth is established, the transplanted hair will blend in with any surrounding original hair. It may then be shaped and groomed in the same way as natural facial hair.
Making the right match to represent your heritage
Ethnicity plays a large role in the hair restoration process, as your genetics determine hair growth patterns, hair characteristics, hair density and hairline. Just as Dr. Barusco takes into account the ethnic background of hair transplant patients in order to achieve the right aesthetic effect, he does the same for facial hair transplants. Beard growth and density is different for men of different ethnic groups. Indian and Middle Eastern men tend to have denser beards, while Caucasians and men of African heritage have good density and more hair in their beards than Asian men. It is important for the surgeon performing a facial hair transplant procedure to achieve the aesthetically appropriate result that truly represents and respects your heritage.
You may have read that facial hair transplantation gives you the option of a "designer beard" or mustache – that is, a full beard, goatee or other style or configuration. While this is true to a certain degree, only a hair restoration surgeon can determine the extent of transplantation possible and advisable for your particular situation. Remember, a conscientious, skilled surgeon such as Dr. Barusco will also be closely examining the health of your scalp hair and assessing your risk for male pattern baldness.
Although more closely associated as an aesthetic choice for women, eyebrow transplants are likewise increasing in popularity. Men may elect for this procedure to conceal scarring from head trauma or eyebrow loss from other causes. Again, harvesting and crafting the donor hairs to achieve the appearance of naturally growing brows requires a highly skilled surgeon. Not all are equally qualified to perform this exacting procedure.
A note for "new" men
While facial hair transplants are a comparatively new frontier, the procedure also offers a way for trans males to achieve a more masculine appearance that aligns with their expressed gender identity. In addition to beards, mustaches and sideburns, eyebrow transplants can complete the picture by creating the thick, full brows identified with men.
Just as important is choosing a surgeon – and practice – able to provide a supportive environment that respects your emotional needs during the transition period. Dr. Barusco has provided hair transplants for many transgender patients, allowing them to bring full expression to their true self.
Making the right choice
Regardless of the reason you're considering a facial hair transplant, the surgeon you select will make a significant difference in its success, and your satisfaction with the results. A transplant can be technically correct – that is, the surgery involved no complications, and the hair follicles survived and thrived – yet fall short of the appearance you want because the hairs weren't placed correctly, or without consideration of your ethnicity.
Before you make your decision, we invite you to schedule a free, no-obligation consultation with Dr. Barusco. You can visit one of our
hacklink
canli tv
Hesapli; Krediler Hizli Krediler
14 Florida locations in person, or by online video conference via Skype, FaceTime or WhatsApp. For your further convenience, we offer consultations in English, Spanish and Portuguese. We look forward to meeting you and helping you achieve a beard – or mustache – or perhaps both – that you'll be proud of for many years to come!