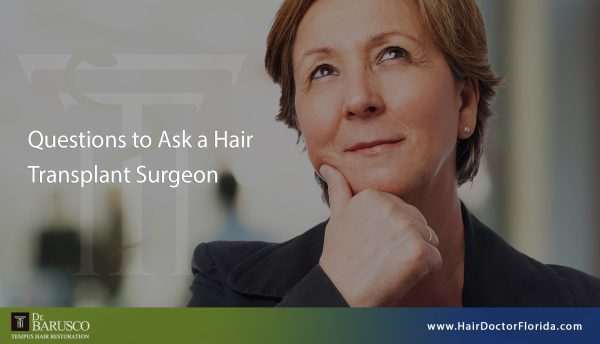 Have you made the big decision to undergo a hair transplant procedure? If so, you've most likely been paying attention to advertising by national brand clinics and other practices that position hair restoration somewhat as a consumer purchase. However, no matter what the procedure, hair transplant surgery is surgery. This takes it from the realm of a consumer purchase to a medical procedure. Once you see it from this lens, you understand how important it is to not only ask questions of the hair restoration surgeon who may be performing your procedure, but to ask the right questions. 
Heavily advertised clinics and practices depend upon consumers' familiarity with their brand name, expecting you to assume that you'll be treated well and get the outcome you want. However, as our blog post – "What to Look for in a Hair Transplant Surgeon" – states, choosing a hair transplant surgeon based solely upon the amount of advertising the doctor or practice does is no guarantee of good results. 
There are also those who "shop" by price only, looking for the practice offering the lowest cost and assuming that all hair restoration surgeons are equally skilled. This assumption is greatly mistaken. As our blog post – "Is Your Hair Transplant Surgeon Qualified? What You Need to Know!" – covers, the field of surgical hair restoration is not regulated by either the United States government or the medical community. According to the American Hair Loss Association, any licensed physician can legally perform hair transplant surgery without prior surgical training or accreditation of any kind. And as we frequently note, some clinics assign the harvesting and implantation of hair grafts to non-medical technicians, which has resulted in serious complications and outcomes ranging from poor to irreversible due to overharvesting of the donor site.
How to Find a Reputable Hair Restoration Practice
Dr. Marco Barusco – Founder and Chief Medical Officer of Tempus Hair Restoration – believes that knowledge is power – and therefore consumers need a base knowledge about the hair restoration field in order to make an informed decision. For this reason, we'll start with how to find a reputable practice, which isn't as easy as you may think. Advertising can be misleading, and websites that seem to be of an informative nature can have affiliate links, which means that the owner of the website is paid a percentage of the revenue of products sold on the site.
A valuable online resource for anyone considering a hair restoration procedure is the International Society of Hair Restoration Surgery (ISHRS). This is a global non-profit medical association, and the leading authority on hair loss treatment and restoration. The ISHRS offers objective, unbiased information, and does not accept advertising or affiliate links. Its website provides free resources for consumers – such as its Find a Doctor database. This is maintained and updated with the name, location, contact information and link to the ISHRS member page of each doctor. Dr. Barusco is a Fellow of the ISHRS. This is a distinction that is only given to those who achieve certain landmarks on teaching and leadership. Currently, fewer than 10% of the ISHRS members are Fellows.
Questions to Ask the Surgeon During Your Consultation
Whether your consultation will be virtual or in-person, first make sure that you will be talking to the surgeon who will be performing your procedure – not a salesperson or medical technician. As our blog post – "The Importance of Consultation Before Hair Restoration Treatment" – cautions, if you're told the doctor cannot or will not meet with you, leave – or don't schedule the consultation in the first place. This is a red flag that should not be ignored!
For additional information on this topic, Dr. Barusco's informative YouTube video – "The Importance of Consultation" – is a comprehensive discussion of what you should expect during your hair loss consultation. Running at just over 24 minutes, this video covers every aspect in detail – including Dr. Barusco's observations about how less-than-conscientious practitioners fail their patients.
The following questions are courtesy of the ISHRS so that you can make an informed decision about the surgeon who will perform your hair restoration procedure.
The Physician's Training and Credentials
Questions about the physician's training include:
From what medical school did the physician receive his/her M.D. (Doctor of medicine, allopathic medical), D.O. (Doctor of osteopathic medicine) or M.B.B.S. (Bachelor of medicine, bachelor of surgery, also abbreviated as, M.B.Ch.B.) degree?

What year did he/she receive the medical degree?

When was the physician licensed to practice medicine? Is he/she licensed to practice medicine in your state/province or the state/province in which the treatment will take place?

Where (hospital or medical center) did the physician complete his/her internship and residency training?

Did the physician have additional training in a medical or surgical specialty after completing residency?

Is the physician board certified or a diplomate of a legitimate certifying board?

Learn more about what this means

.

Does the physician hold membership in their related specialty professional society? For hair restoration surgery, this is the International Society of Hair Restoration Surgery. Do they attend scientific conferences and workshops? Membership and attendance in such societies is not essential, but it is an additional indication of commitment and advanced training.
The Physician's Experience
If you are considering surgical hair restoration (hair transplantation, scalp reduction, flap grafting) you should want to know:
How long has the physician been doing surgical hair restoration procedures?

How many hair restoration procedures has the physician done? How many of the specific type you may consider having done?

How many hair restoration procedures does the physician currently do per month? A busy practice can be one indication that a surgeon is skilled and well respected by patients.

Is hair restoration surgery the physician's only practice, or does the physician perform other types of cosmetic surgery? This question may be important to ask for two reasons: (1) if hair restoration is only part of an overall treatment you think you may need-for example, hair restoration and treatment to remove facial wrinkles and sun-damaged skin-a dermatologic or plastic surgeon will be able to consult with you regarding the overall treatment, and (2) to determine whether the surgeon performs enough hair restoration surgery to maintain his/her skills.

Will the physician, on request, provide names of patients who are willing to be references for the physician?
Other Relevant Questions
Who will evaluate my hair loss and recommend a course of treatment? What is their education, training, licensure, and experience in treating hair loss? Only physicians, Physician's Assistants and Nurse Practitioners are legally allowed to diagnose a patient and to recommend medical treatments. Otherwise, the person recommending procedures and/or treatments is practicing medicine without a license, a Felony crime in Florida and many other states.

Who will be involved in performing my surgery, what role will they play, and what is their education, training, licensure, and experience performing hair restoration surgery?

Will anyone not allowed by the State Medical Board be making incisions or harvesting grafts during my surgery? If so, please identify this person, explain their specific role and why they are legally permitted to perform it.

Is everyone involved in my surgery covered by malpractice insurance?
What is the Most Important Aspect of Choosing a Hair Restoration Surgeon?
As you've learned, a well-known brand name or cost should not be the basis of choosing a hair restoration surgeon. Being an informed patient and asking the right questions will help you achieve the outcome that allows you to face the world and live your best life with renewed self-confidence.
Ultimately, choose your surgeon based on experience, results and integrity. Dr. Barusco's long list of accomplishments, his notable artistic ability and his successful surgical team make Tempus Hair Restoration a renowned practice. Contact us to schedule your free virtual consultation. Dr. Barusco conducts every consultation himself, giving you the opportunity to learn your options in the comfort of your home – or any location, on any internet-enabled device. 
Dr. Barusco conducts consultations in English, Spanish and Portuguese. For your greater convenience, Tempus Hair Restoration offers a two-night complimentary hotel stay to out-of-town clients who travel 100 miles or more to our Port Orange, Florida, surgical center. No matter how far the distance, we welcome the opportunity to help you on your hair restoration journey!