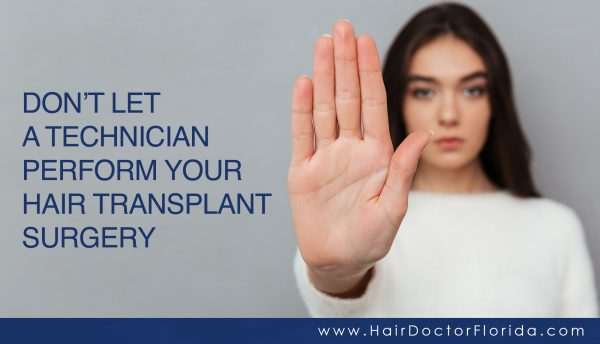 We at Tempus Hair Restoration have been witnessing a disturbing trend over the last few years. An increasing number of hair restoration practices and clinics offering a range of aesthetic services (such as cosmetic surgery) are using non-medical technicians to perform hair transplant surgeries. This practice is becoming so prevalent, that consumers have come to accept this as a typical, legitimate situation – which it is definitely not. These clinics gear their marketing and advertising to mislead the public into believing that technicians have a high degree of training and are just as capable as a surgeon to perform most – if not all – of the procedure. And that doing so allows them to offer hair restoration surgeries at a discount.
Don't believe it. So serious is this problem that the International Society of Hair Restoration Surgery (ISHRS) – the world's leading medical authority on hair loss treatment and restoration – has initiated a patient awareness campaign designed to help people understand why a surgeon is the only person who should be performing the procedure, and how to see through misleading marketing that makes technician-performed surgery seem safe and foolproof.
What is the ISHRS?
The ISHRS is a global non-profit medical association and the leading authority on hair loss treatment and restoration. With more than 1,000 members throughout 70 countries worldwide, the ISHRS is dedicated to achieving excellence in patient outcomes by promoting the highest standards of medical practice, medical ethics, and research in the medical hair restoration industry. The organization is dedicated to achieving excellence in medical and surgical outcomes by promoting member education, international collegiality, research, ethics, and public awareness.
As the ISHRS states the situation, the organization "… is concerned about the growing risk to patients of unlicensed technicians performing substantial aspects of hair restoration surgery. The use of unlicensed technicians to perform aspects of hair restoration surgery, which should only be performed by a properly trained and licensed physician*, places patients at risk of: (i) misdiagnosis; (ii) failure to diagnose hair disorders and related systemic diseases; and (iii) performance of unnecessary or ill-advised surgery all of which jeopardizes patient safety and outcomes. There may also be a risk that unlicensed technicians may not be covered by malpractice insurance."
The ISHRS believes the following aspects of hair restoration surgery should only be performed by a licensed physician*:
Preoperative diagnostic evaluation and consultation

Surgery planning

Surgery execution including:

Donor hair harvesting

Hairline design

Recipient site creation

Management of other patient medical issues and possible adverse reactions

Post-operative care
Dr. Marco Barusco – Founder and Chief Medical Officer of Tempus Hair Restoration – is a Fellow of the ISHRS. This is a distinction that is only given to those who achieve certain landmarks on teaching and leadership. Currently, fewer than 10% of the ISHRS members are Fellows. As such, Dr. Barusco and the Tempus Hair Restoration team are proud to help the ISHRS in this important mission.
ISHRS policy states that hair restoration surgery should only be performed by qualified physicians who possess education, training, and current competency in the field of hair restoration surgery or other licensed health care professionals who are properly trained, performing the procedure within their scope of practice, and supervised by a qualified and experienced physician.
Penalties are now being handed down to physicians who commit such professional misconduct. The ISHRS reported on the suspension of Dr. Dennis Daly's medical license by the New York State Board for Professional Medical Conduct for allegedly allowing unqualified and unlicensed individuals to perform a hair transplant procedure at the SNY Surgery Center in 2017. Effective February 7, 2020, the Board suspended Dr. Daly's medical license for a period of three years (which suspension was stayed) and placed him on probation for 36 months, among other penalties, including dissolving his practice.
Hair restoration surgery is surgery
It is important to understand that hair restoration surgery is the practice of medicine. Although patients receive a topical anesthesia and are awake during the procedure doesn't mean that a hair transplant is without the potential for a disastrous outcome with permanent damage if performed incorrectly. Imagine a heart surgeon allowing a technician to perform any step of a bypass, and you'll get the idea.
Even minimally invasive hair restoration procedures are, in fact, surgery requiring medical expertise. Important clinical decisions requiring expert clinical knowledge must be made during each procedure. For example, diagnostic decisions are continually being made – along with full thickness incisions into the skin. Follicular unit hair transplantation (FUT) involves hundreds to thousands of tiny incisions. This is also the case for hair transplant procedures using the strip-FUT and follicular unit extraction (FUE) methods.
As the ISHRS states, any procedure involving a skin incision for the purpose of tissue removal from the scalp or body, or to prepare the scalp or body to receive tissue by any means – including robotics – is a surgical procedure.
"Such procedures must be performed by a properly trained and licensed physician. All FUE harvesting tools, including robotic devices, are considered extensions of the hand of the operator, and as such, all operators of these devices must be physicians."

"Physicians who perform hair restoration surgery must possess the education, training, and current competency in the field of hair restoration surgery."
Now, a minute to address anesthesia. If your only experience with anesthesia has been at the dentist office, you may consider it a minor issue. However, appropriate dosing of anesthetic medication is critical to patient safety, and patients must be medically monitored.
There are no shortcuts. Any doctor, practice or clinic that advertises otherwise needs to be avoided.
A look at deceptive tactics
Unethical clinics that employ technicians to perform surgery aren't always easy to identify at first glance. Some may have attractive websites that make their methods seem advanced and high-tech. Those that offer a variety of cosmetic procedures typically position this as an advantage – a convenient "one-stop-shop" for any aesthetic improvements you may want to achieve. They also often claim that their technology-assisted techniques make possible a high volume of transplants, which results in bargain prices.
It is typical in such clinics that physicians purchase a robotic device that can help perform one step of the hair transplant procedure. Instead of performing the procedure themselves, they hire technicians to perform most, if not the entire, procedure – including surgery planning, hairline design, graft removal and making incisions to place the grafts in the scalp. Patients are led to believe that a doctor will be performing the procedure, or assured that the technicians are "experts" and just as good as the doctor in performing hair transplants.
As we noted earlier, hair clinics that advertise heavily can mislead those unfamiliar with ethical practices and safe surgical procedures. In particular, the widespread use of robotic and power-assisted devices greatly enables technicians to perform procedures – which can lead to disastrous outcomes. As the ISHRS website notes:
"Only a doctor has been trained to maintain high patient safety standards, care for unexpected medical problems, has medical board oversight, and has taken an actual oath to keep your best interest in mind while you're in his or her care. If your doctor allows technicians to do surgery for them, they are neglecting their oath, and you should shop elsewhere!"
We also invite you to read Dr. Barusco's insightful post about the risks of robot-assisted hair transplant surgery. Dr. Barusco relates his experience with an ever-increasing number of patients seeking help whose initial procedure was botched – sometimes irreversibly – by unqualified personnel using such devices.
"Over the years, it would be fair to say that I've developed a unique perspective on these machines. I closely follow their development and release in our industry. First, they were aimed to experienced, competent hair restoration surgeons. Then, since many of us did not see the advantages of having them, the number of machines sold was too small to sustain business and profit, and they started advertising to cosmetic surgeons, plastic surgeons, family practitioners and others who had no training and no experience in hair restoration surgery. These doctors are pitched a quick-profit procedure that they really do not have to understand, since one company supplies the technicians to do all of the work, and the other will train them on how to operate the robot and its software—as if this did not require good cosmetic sense and a deep understanding of hair loss and hair restoration. The result? Many unhappy patients."
As for the deep discounts that such clinics claim, a botched hair transplant is no bargain at any price. The additional expense to correct bad results will be greater than had you initially chosen an ethical practice – assuming enough hair remains in the donor area to be harvested.
Choose your surgeon wisely
Choosing a hair transplant surgeon based solely upon the amount of advertising the doctor or practice does is no guarantee of good results. The ISHRS provides a Find a Doctor list, which is maintained and updated with the name, location, contact information and link to the ISHRS member page of each member.
In conducting research on individual surgeons, the ISHRS recommends learning about the surgeon's training, credentials and experience in the field of hair restoration. This is important, as a plastic surgeon may perform great liposuctions and facelifts and be an authority on these procedures, but no experience in hair restoration surgery. Be certain the surgeon will give you the names and contact information of patients you can talk to, as well as show you several before-and-after photos to ensure you like the aesthetic quality of their work.
Questions you should ask a hair restoration surgeon
Our blog post – "Undoing the Damage of a Bad Hair Transplant" – includes the following questions:
Who will evaluate my hair loss and recommend a course of treatment? What is their education, training, licensure, and experience in treating hair loss? Only physicians, Physician's Assistants and Nurse Practitioners are legally allowed to diagnose a patient and to recommend medical treatments. Otherwise, the person recommending procedures and/or treatments is practicing medicine without a license, a

Felony crime

in Florida and many other states.

Who will be involved in performing my surgery, what role will they play, and what is their education, training, licensure, and experience performing hair restoration surgery?

Will anyone not allowed by the State Medical Board be making incisions or harvesting grafts during my surgery? If so, please identify this person, explain their specific role and why they are legally permitted to perform it.

Is everyone involved in my surgery covered by malpractice insurance?
Knowledge is power
The best defense against falling prey to unethical clinics using technicians to perform hair restoration surgery is to learn as much as possible about the professional qualifications and standards that ethical surgeons attain and uphold. We hope we've provided you with the facts that you need to make an informed decision.
Ultimately, choose your surgeon based on experience, results and integrity. Dr. Barusco's long list of accomplishments, his notable artistic ability and his successful surgical team make Tempus Hair Restoration a renowned practice. Contact us to schedule your free virtual consultation. Dr. Barusco conducts every consultation himself, giving you the opportunity to learn your options in the comfort of your home – or any location, on any internet-enabled device. 
Dr. Barusco conducts consultations in English, Spanish and Portuguese. For your greater convenience, Tempus Hair Restoration offers a two-night complimentary hotel stay to out-of-town clients who travel 100 miles or more to our Port Orange, Florida, surgical center. No matter how far the distance, we welcome the opportunity to help you on your hair restoration journey!