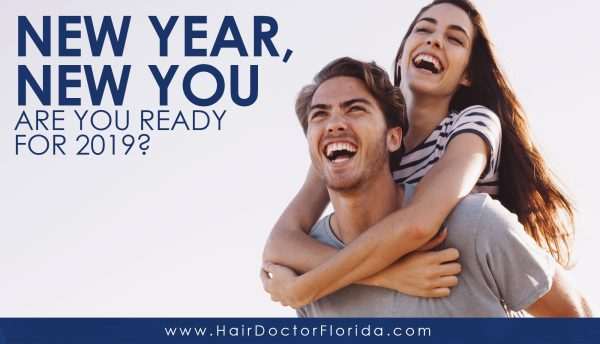 It's a new year, and you know what that means! Everyone has their list of new year's resolutions, which typically includes exercising more, eating healthier and losing weight. But for some, hair restoration is the main self-improvement goal. If you have an important occasion coming up this year – such as a wedding, high school reunion or milestone birthday – you may be considering a hair transplant or non-surgical treatment to give you a refreshed, more youthful look and the self-confidence that goes with it!
Everyone has their story about why they embark upon this journey. Dr. Marco Barusco – Founder and Chief Medical Officer of Tempus Hair Restoration – shares the experiences of patients he was able to help achieve their goal. He also discusses the length of time hair regrowth requires, depending on such factors as the type of procedure performed and degree of hair loss, so that patients have realistic expectations on when they can expect results.
"Many people include hair restoration – either medical or surgical – as one of their new year's resolution," says Dr. Barusco. "So I do find more inquiries at the beginning of the year."
While for some, a fuller head of hair is the main objective for a rejuvenated appearance, Dr. Barusco says that it's common for him to treat patients who consider hair restoration as part of a greater makeover plan. He tells of a particularly dedicated patient whose commitment began with a 65-pound weight loss. As the patient's health and self-esteem improved, he began to explore other actions he could take to make his outward appearance match the physical sense of well-being he was experiencing.
"As people start their journey toward feeling better, they also try to look better. If they have hair loss, then hair restoration becomes an important part of this process."
Dr. Barusco's patient didn't stop with a hair transplant, however. He also underwent cosmetic facial procedures, and is now enjoying the life he envisioned after achieving the goal that had once seemed so distant.
Although this patient was an extreme example, Dr. Barusco notes that people often come to him with the objective of restoring their hair for a special occasion or milestone – particularly Christmas and New Year's Eve, when they'll be spending more time with long-distance family members and attending social events.
"Patients choose this time of the year to treat their hair, so that their hair will be better for the following holiday season," says Dr. Barusco, who observes that people tend to have realistic expectations regarding the amount of time required to heal from surgical procedures and to begin seeing hair growth – particularly growth that reaches the patient's desired length.

"I think part of the reason is the information available about hair transplants on the internet. But sometimes, we find ourselves having to educate patients on what to expect as far as healing and results, so they may plan their life events accordingly. These patients need to be educated very well about short- and long-term expectations in order to correctly prepare them for what is coming and for the achievable results, so that they are happy in the end."
Which raises the question: Does the type of procedure make a difference in the time necessary to see aesthetically satisfactory results? Dr. Barusco replies with an emphatic "no," explaining that healing, growth velocity and the presence of aesthetically visible results are all independent from the surgical technique used – such as Follicular Unit Excision (FUE) or Follicular Unit Transplantation (FUT).
Not surprisingly, weddings are a popular occasion when people want to look their best. In addition to the emotional importance of the event itself, the day lives on in numerous photographs and videos, as well as in memory. Dr. Barusco told of a woman seeking treatment for her hair loss so that she could be proud of her own appearance as well as proud of her daughter on her wedding day. As the cause of this patient's hair loss was genetic, Dr. Barusco successfully treated her with stem cell therapy, allowing her to attend with the full, healthy hair she had desired.
Dr. Barusco also recalled a father-of-the-bride-to-be who he met for a consultation while speaking at a conference in Brazil.
"He mentioned to me that his daughter was getting married in one year, and that he wanted to have more hair for the wedding. His hair loss was fairly advanced, and we planned two procedures spaced about five months apart, so that he would have final results by the wedding. Thankfully, everything worked out well for him, and he was very happy with his better hair at the wedding."
As an internationally renowned, board-certified hair transplant surgeon who has also developed advanced restoration procedures, Dr. Barusco offers the best available option – both surgical and non-surgical – at Tempus Hair Restoration, which has 14 locations throughout Florida (with the surgery center in Port Orange). For those not able to travel to one of his offices for a free consultation, Dr. Barusco performs consultations by video conference.
Whether the consultation is in-person or via teleconference, Dr. Barusco conducts every consultation himself. Unlike many other practices – which allow technicians to perform sensitive procedures that demand the skill of a surgeon – only Dr. Barusco treats the patient at each stage of surgery and post-op follow-up.
Dr. Barusco offers the following advice for those considering a hair restoration procedure for a specific occasion:
"The best advice I can give is to start the process with a consultation as soon as possible, and to give a solid year, if possible, between the procedure and the event so that you have the full results."
Although hair restoration is usually top-of-mind at the top of the year, any time is right to explore your options in getting your hair back or preventing further loss. You are invited to learn more about the innovative surgical and non-surgical hair restoration procedures that Dr. Barusco offers at Tempus Hair Restoration – as well as schedule your free consultation. You can make this the start of your best year yet!