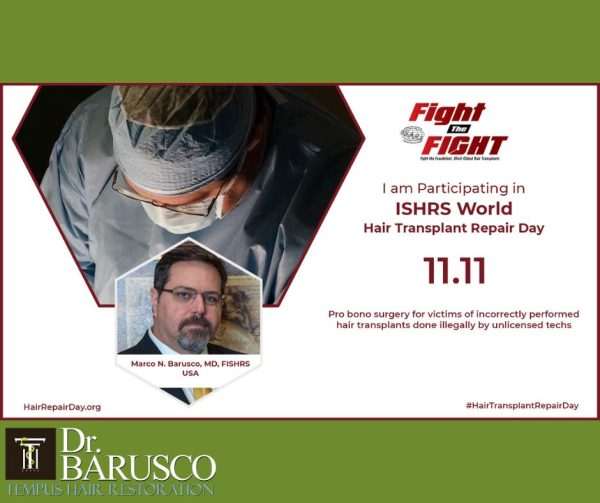 Are you the victim of a hair transplant performed at a clinic you thought was a legitimate facility, but actually wasn't – and are now living with the results of a seriously botched procedure? Or do you know of someone who is? You have the opportunity to be selected for pro bono (free) corrective surgery by Dr. Marco Barusco – Founder and Chief Medical Officer of Tempus Hair Restoration – on November 11, 2022.
On that date, Dr. Barusco will be among 65 hair transplant surgeons worldwide participating in World Hair Transplant Repair Day. This is the second year that the International Society of Hair Restoration (ISHRS) is holding this event as part of its Fight the FIGHT (Fraudulent, Illicit and Global Hair Transplants) global consumer awareness campaign.
With more than 1,000 members throughout 70 countries, the ISHRS is dedicated to achieving excellence in patient outcomes by promoting the highest standards of medical practice, medical ethics and research in the medical hair restoration industry. Dr. Barusco is a Fellow of the ISHRS. This is a distinction that is only given to those who achieve certain landmarks on teaching and leadership. Currently, fewer than 10% of the ISHRS members are Fellows.
Toward increasing consumer awareness of this problem and his involvement with World Hair Transplant Repair Day, Dr. Barusco has produced this video for his YouTube channel, Hair Loss Medical Advice. The video – "The Dark Side of the Hair Restoration Industry" – provides an overview of the prevalence of black market clinics, substandard operating room conditions, disastrous results and how to recognize and avoid such clinics.
Learn about this important campaign and how you can submit yourself as a candidate for a pro bono corrective procedure performed by Dr. Barusco on November 11. If you know someone who is the victim of an illicit black market hair transplant, share this information and encourage them to register. Dr. Barusco will select the recipient in October, so please act now to be sure that you – or a friend or family member – will be considered.
The Story Behind the Fight the FIGHT Campaign
ISHRS launched Fight the FIGHT in 2019 in response to the ever-increasing incidents of disfiguring hair transplants performed by unlicensed, non-medical technicians in illicit clinics. The use of unlicensed technicians to perform aspects of hair restoration surgery – which should only be performed by a properly trained and licensed physician – places patients at the following risks, all of which jeopardize patient safety and outcomes:
Misdiagnosis of the cause of hair loss.

Failure to diagnose hair disorders and related systemic diseases.

Performance of unnecessary or ill-advised surgery.

Unlicensed technicians may not be covered by malpractice insurance.
As the ISHRS states, "Vulnerable patients are lured by cheap prices and false advertising presented with misleading information alongside attractive medical tourism packages to visit clinics that use non-medical persons with very little training in aesthetic hair transplantation. This type of surgery is unsafe. It is a serious health risk often leading to tragic side effects such as permanent scarring, infection that leads to disfiguring results with very little to no recourse for correction."
The lure of foreign clinics to consumers unfamiliar with ethical standards and practices in the field of hair transplantation is understandable. As our blog post – "Consumer Beware – The Risks of Medical Tourism for Hair Transplants" – covers, such clinics offer transplants at bargain rates, included as a package deal with airfare, luxury hotel accommodations and transportation. Combining an exotic vacation with a hair transplant procedure at a total cost lower than a comparable procedure alone by a reputable surgeon in the U.S. seems like an attractive deal. Slick clinic websites look professional and position the facility as trustworthy. But it's all a sophisticated deception. False claims about their legitimacy, staff experience and positive patient outcomes do effective groundwork in misleading potential patients.
What do patients actually get for their hair transplant package? Poor growth, improper graft preparation (which means a higher number of grafts become non-viable), misangled graft placement, unnatural hairlines, a pluggy doll's hair appearance and complete donor decimation are often reported. Severe scarring and disfigurement are also common. Add to that the risk for such infections as hepatitis or HIV. This is because the emphasis for the clinic is volume – performing as many hair transplants as possible each day for maximum profit.
Hair Transplant Surgery Performed by Non-medical Technicians – an Ongoing Problem
However, this disturbing trend is not limited to foreign clinics. Over the past several years, Dr. Barusco has dedicated himself to educating consumers about the risks of hair transplant surgeries performed by non-medical technicians using robotic devices to harvest and implant hair follicles. Our blog post – "Don't Let a Technician Perform Your Transplant Surgery" – covers this important topic in detail. We also frequently reference Dr. Barusco's article – "The Truth Behind Advertising Devices Instead of Surgeons" – which provides his insights on the marketing of such devices to cosmetic surgeons, plastic surgeons, family practitioners and others who have no training or experience in hair restoration surgery. In the article, Dr. Barusco relates his own experience in correcting the damage done to patients who had placed their trust (and money) in doctors who depend on these machines to perform the delicate procedures that only a highly skilled surgeon can.
The practice is becoming so prevalent that consumers have come to accept this as a typical, legitimate situation – which it is definitely not. These clinics gear their marketing and advertising to mislead the public into believing that technicians have a high degree of training and are just as capable as a surgeon to perform most – if not all – of the procedure. And that doing so allows them to offer hair restoration surgeries at a discount.
As the ISHRS states, "In fact, this is a common occurrence in many cosmetic surgery offices in the United States, where a surgeon will buy a heavily marketed device to assist with donor harvesting, then advertise their own credentials to attract patients, and in a 'bait and switch' type operation, bring in technicians to perform most if not the entire procedure."
According to ISHRS policy, hair restoration surgery should only be performed by qualified physicians who possess education, training, and current competency in the field of hair restoration surgery or other licensed health care professionals who are properly trained, performing the procedure within their scope of practice, and supervised by a qualified and experienced physician.
"The cons of some of the heavily advertised, new technology available for hair transplantation (suction-assisted, easy-profit devices and robotic technology) are rarely discussed," says Dr. Barusco. "Marketing campaigns make the unaware consumer think that unless a doctor has one of these devices, he or she is not up to par with the science. Even worse, they lead the consumer to think that if a practice or doctor owns one or more of them, he or she automatically knows what they are doing and will provide good results. Neither could be farther from the truth."
The truth is, hair transplant surgery is surgery – and as such, requires a surgeon to perform. The position of the ISHRS is that " . . . any procedure involving a skin incision for the purpose of tissue removal from the scalp or body, or to prepare the scalp or body to receive tissue, (e.g., incising the FUE graft, excising the donor strip, creating recipient sites) by any means, including robotics, is a surgical procedure. Such procedures must be performed by a properly trained and licensed physician. All FUE harvesting tools, including robotic devices, are considered extensions of the hand of the operator, and as such, all operators of these devices must be physicians. Physicians who perform hair restoration surgery must possess the education, training, and current competency in the field of hair restoration surgery."
To help ensure you have the information to make informed decisions about who performs your hair restoration surgery, the ISHRS urges you to ask the following questions – as well as questions regarding costs, risks, and short and long-term benefits and planning:
Who will evaluate my hair loss and recommend a course of treatment? What is their education, training, licensure, and experience in treating hair loss? (Otherwise, the person recommending procedures and/or treatments is practicing medicine without a license, a Felony crime in Florida and many other states.)

Who will be involved in performing my surgery, what role will they play, and what is their education, training, licensure, and experience performing hair restoration surgery?

Will anyone not licensed by the state be making incisions or harvesting grafts during my surgery? If so, please identify this person, explain their specific role and why they are legally permitted to perform it.

Is everyone involved in my surgery covered by malpractice insurance?
Has Your Hair Transplant Been Botched by a Non-medical Technician?
As much as Dr. Barusco and the ISHRS strive to educate consumers about the risks of illicit clinics and non-medical technicians performing hair restoration procedures, far too many people aren't reached. If your hair transplant was botched under the circumstances this blog post covers, you have the opportunity for Dr. Barusco to perform corrective surgery free of charge if you are selected as his patient for World Hair Transplant Repair Day. To submit yourself as a candidate for surgery on World Hair Transplant Repair Day, please click here to access the contact form.
Note: According to the ISHRS rules for this event, contact with the physician does not guarantee participation and pro bono procedures are limited. Local laws and regulations may apply.
For those who are not selected, we invite you to schedule your free virtual consultation with Dr. Barusco to learn your options for a corrective procedure. Dr. Barusco has helped numerous patients achieve the look they had originally anticipated. Our blog post – "Undoing the Damage of a Bad Hair Transplant" – provides examples of how Dr. Barusco was able to mitigate the poor aesthetic effect of an ineptly performed procedure.
We understand that the main concern you may have is cost. Tempus Hair Restoration offers 12-month interest-free financing, or up to 60-month terms with low interest. Your hair restoration journey should take you where you want to be, with a result that improves your self-image and self-confidence. Dr. Barusco and our Tempus Hair Restoration team are here to help.