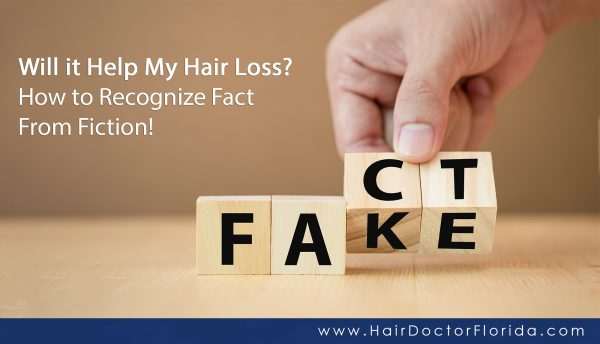 The internet is the first place that people go to search for answers to all of their questions – so it shouldn't come as a surprise that misinformation becomes disseminated among the helpful information from credible sources. If you've been looking for answers to your questions about hair loss (or hair growth), you're likely to find information that seems trustworthy, but is based more on pseudoscience than fact. Unlike the "snake oil" pitches of years past for tonics and elixirs that promised a sure-fire cure for baldness, today's claims are more sophisticated. To make the situation even more complicated, some contain a kernel of truth, or follow the outline of best practices but diverge at critical points.
First, let's address the elephant in the room. Tempus Hair Restoration offers surgical and non-surgical treatments. We write a monthly blog post on a wide variety of topics to educate people concerned about their hair loss – each with the intention of providing accurate, up-to-date information so that they can make knowledgeable decisions regarding treatment. Dr. Marco Barusco – Founder and Chief Medical Officer of Tempus Hair Restoration – also posts weekly to his YouTube channel with his popular series, "The Hair Geek."
Ensuring that Dr. Barusco's patients are confident in their decision – and that they are appropriate candidates for the procedure or treatment they will undergo – are of foremost importance to our practice. Our motivation is not to disparage other legitimate, ethical hair restoration practices, but to prevent people who are seeking help from wasting their time and money on specious treatments, as well as putting themselves at risk.
Can Biotin Help You Grow a Beard?
This is one of the areas in which a little bit of fact gets turned into fiction. Biotin is a B vitamin (B7) involved in the production of energy. It is available in supplement form and found naturally in a number of foods – such as legumes, carrots, mushrooms, cauliflower, nutritional yeast, liver, egg yolks, sardines and bananas. Biotin aids in the metabolism of carbohydrates, fats and proteins, and is essential for the formation of fatty acids and blood sugar (glucose).
Biotin stimulates keratin production in hair and can increase the rate of follicle growth. However, according to the Harvard T.H. Chan School of Public Health, "To date, there is a lack of published studies to suggest that biotin supplements are beneficial for the growth of normal, healthy hair and nails."
Low blood levels of biotin can cause thinning of the hair and rash around the eyes, nose, and mouth. Biotin deficiencies are rare among well-nourished adults, although they can occur due to excessive long-term alcohol use, the use of certain prescription medications and hormonal changes (particularly in pregnant women).
Therefore, assuming biotin does its job within the boundaries of current scientific research, taking biotin supplements will do nothing to promote facial hair growth. However, the websites of some companies that market products for beard grooming tell a different story. Knowing what you now know can help you read between the lines of their plausible-sounding yet misleading copy. In touting biotin as effective in growing a thick, full beard, one such website states a fact – that a biotin deficiency can slow down hair growth and cause hair to become thin and brittle – but then draws the unsupported conclusion that biotin is recommended to those desiring a robust, fast-growing beard.
Other websites may temper their claims with such statements that good nutrition and a healthy lifestyle are required to achieve the optimum benefits of biotin. While this is true (as it is true of any vitamin supplement), the rapid growth of thick facial hair isn't among them. As always, buyer beware! Do your research, and rely on results from credible sources. Look for articles that have been reviewed by a licensed physician for accuracy. Avoid blog posts that include affiliate links, as the author and/or website receives a percentage of the sale of any product made through the sponsor. They are not unbiased sources.
Can Minoxidil Help Beard Growth?
Yes, it does seem we've entered the era of the beard! According to the American Academy of Dermatology, minoxidil (known by the brand name Rogaine) is safe to use on the beard and eyebrows, as well as on the scalp. According to Medical News Today, researchers in Thailand conducted a study to evaluate the safety and effectiveness of a 3% minoxidil lotion for people striving to grow beards. Some 46 participants applied a minoxidil lotion twice a day. Based on doctor evaluation and the participants' self-assessment, this treatment resulted in a noticeably thicker, fuller beard.
While this study is promising, the caution here is that hair restoration is not a DIY project. WebMD notes that minoxidil should not be used on any other part of the body unless directed by your doctor. Instead of attempting to diagnose and treat yourself, schedule an appointment with a hair restoration specialist to learn if minoxidil is the right treatment for your individual case. Minoxidil is a vasodilator, which could put those with a heart condition at risk. 
Can Biotin Help Your Thinning Hair?
Every fact that applies to biotin and beard growth also applies to scalp hair growth. Biotin doesn't make a distinction between the two. And here is where we find more misleading marketing – in this case, to young women, who typically don't experience hair loss, save for such situations as chemotherapy and malnutrition due to an eating disorder.
Followers of social media influencers are probably aware of one particular brand of supplements that are shaped, flavored and marketed like candy. The product's website and social media accounts are filled with glitzy photos, glowing reviews and claims of extraordinary results. Don't be taken in by the hype. Biotin has a place in your diet, but it doesn't have super hair growth powers.
As for shampoos containing biotin, keep in mind that biotin must be taken internally to be absorbed by the body. A biotin shampoo may make your hair "feel" better or easier to style, but don't expect it to do more.
Online Subscription Hair Restoration Services
It may seem the ideal solution if you're beginning to notice hair loss. Consumers can sign up with one of several heavily advertised companies offering online-based treatments to combat thinning hair. Operating on a subscription basis, such companies may provide an online video consultation with a doctor who is a member of the company's network. After a discussion of the patient's concerns, the doctor prescribes a treatment program and the prescribed medication is shipped to the patient's door on a monthly basis. Or you can bypass even that brief conversation with a doctor, with some companies asking only that you fill out a questionnaire – or just allowing you to choose your own treatment plan and medications based upon your own self-diagnosis.
So what could go wrong? As we covered in our blog post – "What to Look for in a Hair Transplant Surgeon" – finding the right doctor and treatment for your specific hair loss isn't the same as buying shoes online.
As reported by Natasha Singer and Katie Thomas in their article for The New York Times – Drug Sites Upend Doctor-Patient Relations: 'It's Restaurant-Menu Medicine' – "The sites invert the usual practice of medicine by turning the act of prescribing drugs into a service. Instead of doctors making diagnoses and then suggesting treatments, patients request drugs and physicians serve largely as gatekeepers.
"Some of these companies operate in a regulatory vacuum that could increase public health risks, according to interviews with physicians, former federal health regulators and legal experts. And federal and state health laws, written to ensure competent medical care and drug safety, have not kept pace with online services, they say."
The first red flag is the marketing for these services. The ads for one company declare "Balding is now optional." Although an attention-getting tagline, it isn't true. Hair restoration practices that follow the industry's ethical guidelines don't make claims guaranteeing results, much less claiming that hair loss can be prevented or reversed across the board.
The company the ads promote prescribes and ships finasteride (brand name Propecia) and minoxidil. Although the ad copy implies there has been a breakthrough in the science of hair loss treatment, Propecia and Rogaine are FDA-approved treatments that have been available for many years.
Ethical practices do not sensationalize their marketing, or mislead potential patients through setting exaggerated expectations of results. While this is a blatant example, these online subscription companies downplay the fact that even non-surgical treatment is still medical treatment that involves numerous factors a doctor needs to take into account and evaluate. If any type of medical practice doesn't market itself ethically, you can assume it lacks ethics in every other area – including patient care.
Only, as The New York Times' article points out, these companies "… argue that they are tech platforms, not health providers. The sites connect consumers – and often process their payments – to doctors who may prescribe drugs and pharmacies that can ship the medications." Their lack of accountability and responsibility to patient health should negate any perceived convenience in ordering prescription treatments with a couple of clicks.
As for the online doctor? You may be able to choose the doctor for your video conference, but only from those who are in the company's network. Are you able to check their qualifications? Are they hair restoration specialists? Hair transplant surgeons? According to The New York Times' article (which names the online companies), the companies use physicians groups for their doctor consultations.
Whatever the case, it's unlikely you'll be able to find much useful information about their experience and credentials. Dr. Barusco advocates transparency in the patient-doctor relationship, and makes his extensive educational and professional background available on the Tempus Hair Restoration website.
Bottom line: If you sign on with such a service believing you'll have a true patient-doctor relationship, you won't. And if something goes wrong, you'll also have no legal recourse.
Knowledge is Power – Choose Your Surgeon Wisely
Knowledge is power. Being an informed consumer will allow you to tell the difference between science and pseudoscience, and seek legitimate treatment for your hair loss before it's too late to reverse or restore. Choose your surgeon carefully based on experience, results and professional integrity.
Dr. Barusco is a board-certified surgeon who is internationally recognized as a leader in hair restoration. His many other credentials include: Diplomate and Past President (2017) of the American Board of Hair Restoration Surgery; Assistant Professor of Surgery – University of Central Florida College of Medicine; Fellow of the International Society of Hair Restoration Surgery (ISHRS) and Fellow of the American Academy of Cosmetic Surgery (AACS). Dr. Barusco conducts all consultations and performs all hair transplantation procedures.
Contact us to schedule your free virtual consultation. Dr. Barusco conducts every consultation himself, giving you the opportunity to learn your options in the comfort of your home – or any location, on any internet-enabled device. 
Dr. Barusco conducts consultations in English, Spanish and Portuguese. For your greater convenience, Tempus Hair Restoration offers a two-night complimentary hotel stay to out-of-town clients who travel 100 miles or more. No matter how far the distance, we welcome the opportunity to help you on your hair restoration journey!