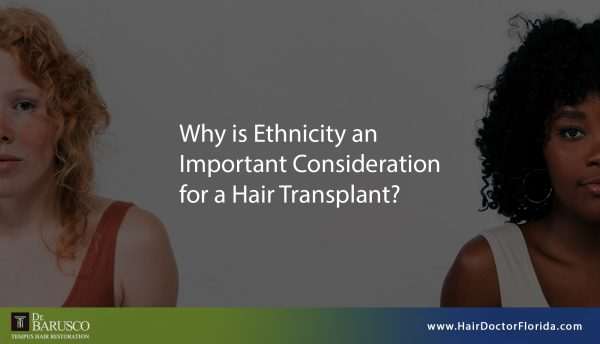 Performing a hair transplant that achieves the look of natural, healthy hair growth is – or should be – the goal of every hair restoration surgeon. Therefore, a skilled, experienced surgeon knows that there is no cookie-cutter, one-technique-fits-all approach. However, you might be surprised to learn that in addition to the numerous factors a conscientious surgeon such as Dr. Marco Barusco – founder and Chief Medical Officer of Tempus Hair Restoration – considers, the ethnicity of the patient is highly important in determining the "game plan" for the placement of hair, as well as for the implantation technique.
A native of Brazil, Dr. Barusco has been privileged to perform hair restoration surgery on patients of all ethnicities, crediting his adopted home of Florida with being a popular destination for people of every racial heritage throughout the world. Some of the information in this article is based on Dr. Barusco's video – "Is Ethnicity Important When it Comes to Hair Transplantation?" – that Dr. Barusco produced for his YouTube channel, Hair Loss Medical Advice.
"There is a lot of mixture of races here, and so I come across every type of ethnic hair that there is: Asian, African-American and Caucasian," says Dr. Barusco. "They each require a slightly different approach."
Common Ethnic Considerations for Planning a Successful Hair Transplant Procedure
According to the International Society of Hair Restoration Surgery (ISHRS), there are common factors for a surgeon to consider when planning for a successful outcome:
Head shape –

For example, a "long" head shape and a "round" head shape require different approaches to placement of transplanted hair.

Hair characteristics –

For example, hair color, hair caliber (diameter) and hair shape (straight, wavy, curly, frizzled, etc.) all influence the appearance of transplanted hair.

Hair density –

Differences in the numbers of hairs per square centimeter of scalp – for example, about 200 hairs per square centimeter in East Asians versus about 130 hairs per square centimeter in Caucasians – influence the surgeon's decision on where, how and how many follicles to implant in the recipient sites.

Skin thickness –

Thickness and other genetically programmed features of skin influence technique for setting donor hair into the transplantation site, and may predispose a patient to postoperative formation of the type of scarring called keloids. African-Americans are particularly susceptible to forming keloids in response to skin injury, which must be taken into account before surgery. Dr. Barusco's YouTube video – "

What is Keloid Scarring?

" – addresses this issue in detail. People of Asian background are also more prone to keloid scarring than Caucasians, although to a lesser extent than African-Americans.

Cultural preferences –

Ethnicity may influence a patient's preferences regarding where a transplanted hairline should be placed, and how much "baldness" is acceptable.
Characteristics of Asian Hair to Consider in Hair Transplantation
In covering the characteristics of Asian hair, the ISHRS makes the distinction of people of East Asian origin (Chinese, Japanese and Korean). Noting that East Asian hair is similar in most respects to Caucasian hair, there are differences that can influence the transplant procedure.
Characteristics include the following:
East Asians have thicker individual hairs than Caucasians, but fewer hairs per square centimeter of scalp (lower hair density). However, the thickness of hair follicles creates the impression of greater hair density. For this reason, a larger donor area must be harvested to obtain the number of hairs necessary for a transplant.

The characteristic shape of the East Asian head is somewhat more rounded than the longer, more narrow head typical of Caucasians. Therefore, hair placement must be adapted accordingly to achieve a natural-looking hairline and growth pattern.
Characteristics of African-American Hair to Consider in Hair Transplantation
The curling and twisting of African-heritage hair provides the appearance of good scalp density, which is an advantage in hair transplants. Hair may emerge at a variety of angles from the scalp, which can make the harvesting of donor hair more challenging. Both the follicles and hairs have a degree of curvature in relation to the scalp that must be accommodated when harvesting. However, its curliness allows coverage of scalp areas with fewer number of follicles needed to achieve an aesthetically pleasing "full" coverage – thereby reducing the number of follicles needed for transplantation.
In his article for the ISHRS, William D. Yates, MD, writes that African-American hair transplantation involves unique factors which must be considered in the pre-op, operative and post-operative stages to ensure the best outcome. Because developing keloid scarring may be a possibility, the surgeon should ask if a prospective patient has a history of such scarring, or any other scarring scalp disorders. A conscientious surgeon will also monitor for scarring post-op, as well as watch for ingrown hairs, which can occur two to three months after surgery, when the hair begins to grow.
Characteristics of Caucasian Hair to Consider in Hair Transplantation
Caucasian hair is generally straight or wavy and is the thinnest of the three main types of hair, while its cross-section is relatively elliptic. It grows diagonally to the scalp, and has the highest density of the three ethnic profiles.
People of multi-ethnic backgrounds may have hair that better fits one particular profile – which, of course, the surgeon needs to take into consideration when planning a hair transplantation procedure.
Cultural Preferences to Consider
In addition to the technical aspects of harvesting and implanting different types of hair, a conscientious surgeon will also be aware of how the patient's culture affects their self-image and expectations. For example, Dr. Yates writes that his male African-American patients prefer less temporal recession in the design – that is, a less-pronounced "M" shape that characterizes the mature male hairline.
Dr. Barusco sees similar preferences in his own practice. "Some ethnic groups are much more in tune with what their hairlines are, so they want a lower, more aggressive hairline; others don't."
What This Means to You – Choose Your Hair Restoration Surgeon Wisely
If you've decided to have a hair transplant procedure, be sure the surgeon you choose has experience with patients of your ethnic group, and has achieved good results. Our website's Before & After Gallery provides examples of Dr. Barusco's outstanding work in creating the look of healthy, natural hair growth for patients of all ethnicities. In addition, ask any surgeon you schedule a consultation with about their experience in performing hair transplant procedures on members of your group. This article should give you a basis for questions to help you determine the surgeon's degree of knowledge and expertise.
The consultation also is the time to tell the surgeon about your own aesthetic preferences and expectations of the results you want. The surgeon may assume you want coverage in a particular area, when you actually want to see growth on a different area of your scalp. If the surgeon has a vision that differs from yours, there may be a reason – but it is the surgeon's responsibility to explain their reason so that you understand and can make your decision based upon this information. Our blog post – "Why Do Some Hair Transplants Fail?" – covers such reasons as poor doctor-patient communication and poor technical execution of the transplant procedure – among many others – for unsatisfying results.
Ultimately, choose your surgeon based on experience, results and integrity. Dr. Barusco's long list of accomplishments, his notable artistic ability and his successful surgical team make Tempus Hair Restoration a renowned practice. Contact us to schedule your free virtual consultation. Dr. Barusco conducts every consultation himself, giving you the opportunity to learn your options in the comfort of your home – or any location, on any internet-enabled device. 
Dr. Barusco conducts consultations in English, Spanish and Portuguese. For your greater convenience, Tempus Hair Restoration offers a two-night complimentary hotel stay to out-of-town clients who travel 100 miles or more to our Port Orange, Florida, surgical center. No matter how far the distance, we welcome the opportunity to help you on your hair restoration journey!