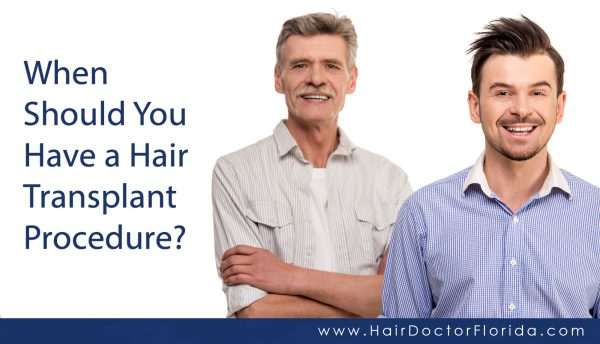 If you're experiencing hair loss, you may be wondering if there's a "right" time to explore your hair replacement options. Should you schedule an appointment with a hair restoration surgeon as soon as you notice hair loss, or wait? At the other extreme, is it possible for hair loss to be too far advanced for you to be a good candidate for a transplant – or for you to be too old? 
As you may have already guessed the answer, each person experiences hair loss differently – therefore, there is no single window of opportunity that presents itself to everyone in the same manner. However, there are ways to help you determine when a hair transplant is advisable.
Are You Too Young for a Hair Transplant?
Male pattern baldness affects up to two thirds of men in the United States by age 35, and can start showing as early as age 18. Almost 85% of men experience thinning hair and a more extensive degree of loss by the time they reach age 50.
These statistics provide the starting point for questions. We'll begin at the first extreme: very young men.
Dr. Marco Barusco – Founder and Chief Medical Officer at Tempus Hair Restoration – advises against hair transplant surgery for those under the age of 25. The reason is because a hair transplant relies on using donor hair from the back of the head. If performed too early, the donor hair may be distributed too heavily in one area, leaving too little to be transplanted later, when needed on another area of the scalp as hair loss progresses.
Also, the male hairline continues to form up to approximately age 29. Younger men may believe their hairline is receding, when in fact it's evolving into what is known as a mature hairline. This occurs when the hairline moves back about a half inch to one inch from where it used to be. A mature hairline forms the "M" shape that distinguishes the male hairline from the female oval hairline shape.
Being able to recognize the difference between developing a mature hairline and early-stage male pattern balding may be difficult. Signs to look for include excessive hair shedding, extra hairline recession at the temples and short hairs beyond your hairline.
Although transplantation surgery isn't advisable for young men, there are proven non-surgical treatments available to prevent/slow further loss and promote growth. Finasteride (Propecia) and minoxidil (Rogaine) are the two most popular. Caution: Propecia is not for use by women and children.
More recently, the introduction of adipose tissue and growth factor treatment permits earlier intervention for younger hair loss patients. This breakthrough therapy can provide a positive outcome, as stronger hair returns in the areas that are thinning, improving volume and scalp coverage. Adipose (fat) tissue is a biologically active tissue that can stimulate the growth cycle of scalp hair. This therapy utilizes the stromal vascular fraction of subcutaneous adipose tissue, and the growth factors they secrete.
In plain language, the treatment uses the patient's own fat, harvested from just under the skin through a very thin liposuction cannula, with no stitches necessary. The fat is concentrated and purified in a centrifuge. It is then combined with plasma obtained from the patient's blood, and injected into the scalp. This therapy helps repair damaged hair follicles, stimulating stronger, thicker growth. Results may be seen in three to four months, with 12 months typical to achieve the full benefit.
Our blog post – "Adipose Tissue and Growth Factors – Expanding Hair Restoration Horizons and Telling the Truth" – describes this treatment in detail, as well as Dr. Barusco's role in its ongoing research through the STRAAND clinical trials.
Although younger men are typically not good candidates for a hair transplant, placing yourself in the care of an experienced, qualified surgeon is essential to make sure you receive the best possible treatment to prevent further hair loss and promote new growth. Should a hair transplant eventually be advisable, you'll be in a good position to make an informed decision.
Who are the Best Candidates for a Hair Transplant?
Dr. Barusco discusses this topic in his YouTube video, "Who is a Good Candidate for a Hair Transplant?" As Dr. Barusco explains:
"When I see a patient in the office, the first thing I do, obviously, is to diagnose their hair loss. Even patients with hair loss that can be treated surgically may not be good candidates for surgery. What makes someone a good or a bad candidate for surgery has to do with many factors: age, degree of hair loss, color of their hair, potential for hair loss in the future and family history of hair loss. All these things are taken into consideration when I'm telling someone whether they need surgery or not.
"The best candidates are men or women in their 30s or 40s, and their hair loss is already significant enough that it bothers them. We, of course, rule out every other type of hair loss that could not be treated with surgery, and then they are willing to do some kind of medical therapy to stabilize the loss, because hair loss tends to be progressive over time, and they have abundant donor hair – the hair on the back of the head that doesn't fall out – and they understand the limitations of the surgery. It's still a procedure. We make sure that their expectations are correct."
Are You Too Old for a Hair Transplant?
Men over age 50 are a rapidly growing category for first-time hair transplantation. In addition to society's emphasis on youth, men want to stay competitive in the job market longer – as well as on the dating scene. As noted in our blog post – "Busting Common Hair Transplant Myths" – older men can benefit from the boost in self-esteem that a fuller head of hair can provide. This is especially true for those who lead a healthy lifestyle and pride themselves on being fit and projecting a more youthful image. As society redefines aging, a hair transplant can help enhance your enjoyment of life on your own terms.
However, those with type 2 diabetes need to have their condition under control, and get clearance from their primary medical care provider for the procedure. Tell your hair restoration surgeon during your consultation about any health conditions, as well as prescription medications that you take. A conscientious surgeon will ask about your medical history – as well as many other areas – during the consultation. Our blog post – "The Importance of Consultation Before Hair Restoration Treatment" – covers this crucial, yet often overlooked, topic in depth.
Also, keep in mind that the goal of a hair transplant should be to produce age-appropriate correction of hair loss. Therefore, having realistic expectations about the result is essential. Goals should be frankly discussed and agreed upon between the patient and surgeon.
Are You Too Bald for a Hair Transplant?
While this is definitely a question to be discussed during a consultation with a hair transplant surgeon, there may be a solution. Dr. Barusco offers a safe, proven hair transplant procedure for patients with advanced hair loss: a combined procedure that he developed in which – by using both Follicular Unit Excision (FUE) and Follicular Unit Transplantation (FUT) techniques – he is able to move a large amount of hairs in one procedure, covering large bald areas at one time.
This allows patients to achieve their ultimate goal in less time, with one procedure versus many. But be aware that this is an advanced procedure and should be performed only by doctors and teams with a great amount of experience. For this reason, selecting the right doctor and team is even more important!
Choose Your Surgeon Wisely for Your Hair Restoration Journey
If you are concerned about hair loss, any time is the right time to schedule a consultation for a diagnosis and treatment options. You have important issues that need to be addressed, and the sooner you have definitive answers and a path to treatment, the better the opportunity for a positive outcome.
Ultimately, choose your surgeon based on experience, results and integrity. Dr. Barusco's long list of accomplishments, his notable artistic ability and his successful surgical team make Tempus Hair Restoration a renowned practice. Contact us to schedule your free virtual consultation. Dr. Barusco conducts every consultation himself, giving you the opportunity to learn your options in the comfort of your home – or any location, on any internet-enabled device. 
Dr. Barusco conducts consultations in English, Spanish and Portuguese. For your greater convenience, Tempus Hair Restoration offers a two-night complimentary hotel stay to out-of-town clients who travel 100 miles or more to our Port Orange, Florida, surgical center. No matter how far the distance, we welcome the opportunity to help you on your hair restoration journey!