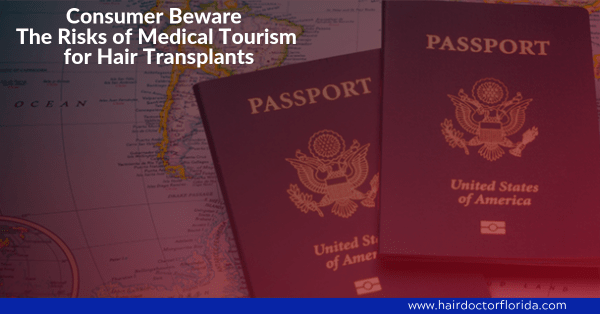 If you're considering hair restoration surgery, you've doubtlessly read about the advantages of traveling to Turkey for the procedure. Surgery at a bargain price combined with an exotic vacation are strong lures for many men eager to restore their youthful hairline. However, much of what you read about Turkish hair transplant clinics are a combination of deliberate disinformation produced by the clinics themselves, social media hype and publicity provided by mainstream publications more eager for readers' eyeballs than presenting the facts.
Yes, facts can be boring. But there are far worse things than being bored – for example, being permanently disfigured by a botched hair transplant procedure performed by non-medical clinic employees who go to their other jobs, like waiting tables or driving taxis, after their shift at the clinic. Unfortunately, since the publication of our blog post – "Consumer Beware – The Risks of Medical Tourism for Hair Transplants" – this dangerous trend is still on the rise.
In 2019, the International Society of Hair Restoration Surgery (ISHRS) – the world's leading medical authority on hair loss treatment and restoration – launched a worldwide campaign designed to raise awareness of the risks of medical tourism for hair transplants. Its Fight the FIGHT (Fraudulent, Illicit and Global Hair Transplants) campaign targets the hair transplant black market, which is built upon fraudulent hair restoration clinics and misleading advertising claims.
Dr. Marco Barusco – Founder and Chief Medical Officer of Tempus Hair Restoration – is a Fellow of the ISHRS. This is a distinction that is only given to those who achieve certain landmarks on teaching and leadership. Currently, fewer than 10% of the ISHRS members are Fellows. As such, Dr. Barusco and the Tempus Hair Restoration team are proud to help the ISHRS in this important mission.
We want to make it clear that many members and Fellows of the ISHRS are Turkish citizens, and uphold the organization's code of ethics. They are as concerned as all other members regarding the alarming proliferation of black market clinics, and are doing their part to educate consumers about how to identify and avoid them.
Yet despite the ongoing work of the ISHRS on a global level, black market clinics continue to thrive. There are two big reasons for this: social media and mainstream media – especially men's lifestyle and fashion magazines.
One such magazine featured an article by a reporter who traveled to Istanbul for hair transplant surgery, and referenced (as well as quoted) the ISHRS website's FightTheFIGHT page about the risks of black market clinics. The reporter also interviewed Dr. Ricardo Mejia, who sits on the ISHRS Board of Governors. Dr. Mejia advised him to conduct thorough research to ensure that any doctor he was considering is registered with the ISHRS. Despite Dr. Mejia's caution and the warnings on Fight the FIGHT, the reporter was still more influenced by posts on Reddit and before-and-after photos showing apparently impressive results.
In a follow-up article written 10 months post-surgery, the reporter related a satisfactory outcome. Still, such articles do a disservice to readers, as they give the impression that the risks are exaggerated, and your experience may also be positive. The reporter provided no information as to how he determined the clinic he chose was legitimate. Instead, he seemed to take a leap of faith that his surgery wouldn't be botched. He was lucky. You may not be.
Risks of Having Hair Transplant Surgery at a Turkish Black Market Clinic
At a legitimate hair restoration practice, you'll have a consultation with the surgeon, who will diagnose the cause of your hair loss and recommend the best transplant procedure for your individual situation. A black market clinic only wants your money. The person you meet may wear a white lab jacket or surgical scrubs, but may or may not be a surgeon – or any licensed medical professional at all. You aren't likely to receive an accurate diagnosis or solid treatment plan.
And you definitely won't be told if you're not a good candidate for the surgery. Reasons a legitimate hair transplant surgeon will turn away a patient include serious health conditions (such as uncontrolled type 2 diabetes), and not enough availability of donor hair. As long as you can pay, a black market clinic will take your money – and, of course, not produce the result you had expected while quite possibly endangering your life.
But that's just the starting point. Other risks include the following:
An unnatural-looking hairline – Achieving a male hairline that looks natural is harder to do than you might think. An experienced hair transplant surgeon with knowledge of how the male hairline changes over time can implant hair grafts to get the right amount of coverage while looking age-appropriate. A hairline that's too aggressively forward, goes straight across the forehead with no variations, etc., will look "off" at best, bizarre, at worst. Our blog post – "Principles of Male Hairline Design" – covers this topic in detail.
Hair growing in the wrong directions – A knowledge of the directions of hair growth is essential in placing grafts. Personnel at black market clinics lack this knowledge, which means hair grafts are implanted incorrectly – resulting in a strange, unnatural growth pattern.
Improper graft preparation – When hair grafts are harvested from the donor site, time is of the essence in preparing them for implantation. Improperly treated grafts quickly die, and will not grow in the recipient area – resulting in a failed transplant. Poor quality control conditions include dehydration, warming and oxygen deprivation. A photo taken at one Turkish clinic shows hair grafts on strips of cotton gauze laid out in bloody rows in what appear to be baking pans, evidently drying into non-viability as they wait to be transplanted.
Overharvesting of grafts from the donor area – The donor area is where grafts are harvested for implantation into bald areas of the scalp. Once a graft is taken from this area, no hair will grow there again. Black market clinics tend to offer a large number of grafts – usually between 2,000 – 4,000 graft extractions per session – but with no consideration for the patient's degree of hair loss. A licensed, ethical hair transplant surgeon takes into consideration the amount of donor hair each patient has available, and plans the surgery according to anticipated – as well as current – hair loss. This helps ensure that enough donor hair will be available for future hair transplants. There are numerous accounts of black market clinics decimating donor areas, leaving disfiguring permanent scars – and no way to correct the often-botched transplant.
Infection from Unsanitary Operating Room Conditions – When you think of an operating room, you assume the surgical theater will be sterile. In black market clinics, it's common for several patients to undergo transplant surgery simultaneously in one large room, much like a warehouse. Under such conditions, maintaining a safe, sanitary environment is impossible – putting patients at risk for hepatitis, HIV or other infections. This is because the emphasis for the clinic is volume – performing as many hair transplants as possible each day for maximum profit. Patient safety is not a priority.
Don't be a Victim of a Turkish Black Market Clinic! Choose Your Surgeon Wisely!
We hope we have provided information that will prevent you from making a serious mistake that can negatively impact the quality of your life and general health. To further educate yourself, we recommend visiting the links we've provided in this blog post to the ISHRS website. This organization is an unbiased source of information, and holds its members to the highest ethical standards – as well as establishing and enforcing industry standards.
Ultimately, choose your surgeon based on experience, results and integrity. Dr. Barusco's long list of accomplishments, his notable artistic ability and his successful surgical team make Tempus Hair Restoration a renowned practice.
We understand that the main concern you may have is cost, which is why we offer financing options that can place this important goal within reach. Putting yourself at risk of the consequences of a hair transplant procedure at an overseas black market clinic – or even an unscrupulous domestic clinic where unlicensed non-medical personnel harvest and implant hair grafts – isn't worth the perceived savings.
Contact us to schedule your free virtual consultation. Dr. Barusco conducts every consultation himself, giving you the opportunity to learn your options in the comfort of your home – or any location, on any internet-enabled device. 
Dr. Barusco conducts consultations in English, Spanish and Portuguese. For your greater convenience, Tempus Hair Restoration offers a two-night complimentary hotel stay to out-of-town clients who travel 100 miles or more to our Port Orange, Florida, surgical center. No matter how far the distance, we welcome the opportunity to help you on your hair restoration journey!