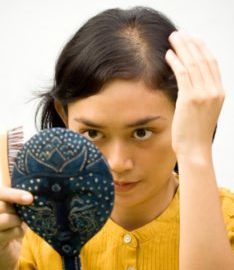 Are you noticing more hair than usual on your brush or seeing strands all over your clothes and furniture? Shedding 50 to 100 hairs a day is common and usually unnoticeable but if you feel hair loss is becoming part of your life it may be time to schedule an appointment with Dr. Barusco with Tempus Hair Restoration.
Hair loss generally occurs due to heredity, changes in hormones, medical conditions and some types of medication. Stress can also be a huge factor in hair loss. The most common reason is a family history which is called male/female-pattern baldness. The loss usually happens gradually and in patterns that are predictable. Heredity also affects the age at which you begin to loss hair. Men typically begin as early as puberty and women notice more loss in the later years when there are hormonal changes occurring. Alopecia areata, scalp infections, skin disorders, emotional distress and hair treatments can also cause hair loss.
Most people desire beautiful hair throughout all phases of life. Many feel a lack of confidence when hair loss occurs. Know that there are many natural options as well as medical therapy and restoration procedures now available for men and women of all ages and backgrounds.
We recently came across an interesting article from The Times of India that suggests the following natural tips to prevent hair loss. Have you ever tried any of them and seen results?
As always, Dr. Barusco offers a complimentary consultation at one of his 12 locations statewide. During the hour consultation he will be able to diagnose your needs and make the proper suggestions for treatment!
1. Hot oil massage
Heat some oil (preferably coconut oil or almond oil) and slowly massage your scalp using your fingertips. It increases flow of the blood to the hair follicles, enhances the strength of the roots of your hair and conditions your scalp.
2. Onion juice
Due to its high sulfur content, onion juice helps treat hair loss and enhance the circulation of blood to the hair follicles, revive hair follicles and reduce inflammation. The presence of anti-bacterial properties in onion juice helps kill the germs that cause scalp infection which may lead to hair loss.
3. Beetroot juice
This is one example of the saying 'Solution to almost all body related problems can be found in the kitchen'. Beetroot helps you to complete your nutritional deficiency that causes the hair fall. So include it in your diet and fight this evil problem.
4. Green tea
Green tea revitalizes hair follicles and stimulates hair production. It also enhances your metabolism which ultimately leads to increased rate of hair growth. Just condition your hair with green tea solution and notice the change!
5. Meditate
Stress! This 6 letter word is the root cause of a lot of problems that come our way. One of the major problems is hair loss! Include meditation in your daily routine and get rid of this irritant.
6. Indian Gooseberry (Amla)
What's better to treat hair related issues than Amla? One of the major reasons for hair loss is the deficiency of Vitamin C and Amla being a rich source of it, there's no better way to replenish it back in our system!
7. Natural hair mask
Hair masks are a mix of various ingredients good for hair but they need not always be chemical based! Make hair masks at home using natural ingredients such as banana, coconut oil, olive oil and honey and control hair loss to a great level!
8. Neem Leaves
Neem, known for its medicinal properties is an effective herb to treat hair loss. Boil and grind neem leaves to a paste and apply it to your scalp after shampooing your hair. Wash it off after 30 minutes. Repeat the process twice in a week and notice the change!
9. Aloe vera
Aloe vera contains enzymes that directly promote healthy hair growth. Applying Aloe vera juice or gel on your scalp along with having one teaspoon of aloe vera on an empty stomach can induce healthy hair growth.
10. Egg white and curd paste
It may sound the grossest trick out of the lot, but egg white and curd are known to be preventers of hair loss. Take egg white of two eggs in a bowl and add two tablespoons of fresh curd or yoghurt to the egg white. You can mix this with neem powder and apply.