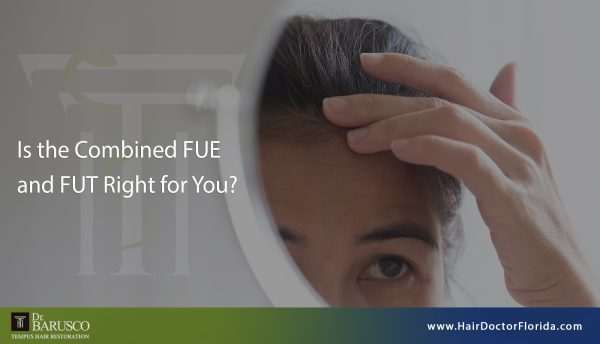 Men experiencing advanced hair loss may feel that they are beyond the help that hair restoration surgery can provide – or feel discouraged over the length of time and number of surgeries required to achieve results. With the breakthrough combined FUE and FUT procedure gaining prominence, however, those who believed that they had to resign themselves to baldness are wondering if this is the ideal solution for their situation.
For those just learning about hair transplant procedures, Tempus Hair Restoration provides the following definitions:
Follicular Unit Excision (FUE) – In this procedure, follicular units (hair grafts) in groupings of one, two or three hairs are individually extracted from the back of the head (donor area) using small circular punch blades instead of a scalpel. The grafts are then transplanted to the thinning or balding areas of the scalp. Once the desired number of grafts are obtained, the donor sites are left to heal without suturing. The resulting scars are not readily visible and are easily concealed even by very short hair.
Follicular Unit Transplantation (FUT) – Also known as the "strip" method, the FUT procedure involves harvesting a very small strip of hair and skin from the donor area, then placing it under a microscope to be prepared for implantation as hair grafts. The FUT has undergone refinements over the years so that the only evidence is a pencil-line linear scar easily concealed by hair – even at a shorter length.
Our blog post – "An Up-close Look at Hair Grafts" – covers the anatomy, harvesting, treatment, preparation and implantation of grafts in greater detail.
What is the Combined FUE and FUT Hair Transplant Procedure?
Although the FUE and FUT are different procedures, they can be used in tandem. Among his many contributions to the hair transplantation field, Dr. Marco Barusco – Founder and Chief Medical Officer of Tempus Hair Restoration – is known for pioneering the combined FUE and FUT technique, which covers large areas of baldness in a single surgery. Patients with advanced hair loss are typically required to undergo multiple hair transplant procedures to obtain coverage of their entire bald scalp – having to wait one year or more between procedures. The reason is that most practices – particularly those solely offering FUE treatments – can move only a certain amount of grafts in one procedure, due to limitations of the surgeon's experience and/or surgical staff. The combined FUE and FUT allows patients to reach their ultimate goal sooner, with one procedure versus many.
Performed during the same surgery, each type of procedure makes it possible to harvest grafts from different donor areas in order to attain the optimum number for transplantation – without the risk of overharvesting. This is important, as once a graft is harvested from a donor site, hair will never grow there again. An inexperienced surgeon – such as one who specializes in another area, such as cosmetic surgery – or allows non-medical personnel to harvest grafts using a robotic device – can deplete the donor area and/or leave visible scars.
Dr. Barusco has found that a common misconception he encounters among his patients is that the FUE procedure is "non-invasive." In fact, all surgical procedures are invasive, as they involve making an incision in the skin. When performed correctly, an FUE will appear to leave no scars. As mentioned earlier, the tiny dot-like scars are hidden by the hair – thereby seeming to be invisible to the patient and casual observers.
Who is a Good Candidate for a Combined FUE and FUT Procedure?
While only a hair restoration surgeon with extensive experience in this procedure can determine if your type of hair loss positions you as an appropriate candidate based upon an in-depth consultation, there are two main parameters:
Men diagnosed with genetic hair loss (

androgenetic alopecia

) whose hair loss has stabilized, and have a stable hair loss pattern.

Men who have a reduced amount of donor hair available because of previous hair restoration surgery or an overall sparse donor area.
As exciting as the combined FUE and FUT procedure is, be aware that this is an advanced procedure and should be performed only by surgeons and teams with a large amount of experience. To determine if the surgeon you're consulting is qualified to perform the combined FUE and FUT, ask the following questions – which we highly recommend you ask during a consultation for any type of hair restoration procedure:
How often have you performed this procedure?

Who will evaluate my hair loss and recommend a course of treatment? What is their education, training, licensure, and experience in treating hair loss? Only physicians, Physician's Assistants and Nurse Practitioners are legally allowed to diagnose a patient and to recommend medical treatments. Otherwise, the person recommending procedures and/or treatments is practicing medicine without a license, a Felony crime in Florida and many other states.

Who will be involved in performing my surgery, what role will they play, and what is their education, training, licensure, and experience performing hair restoration surgery?

Will anyone not allowed by the State Medical Board be making incisions or harvesting grafts during my surgery? If so, please identify this person, explain their specific role and why they are legally permitted to perform it.

Is everyone involved in my surgery covered by malpractice insurance?
Choose Your Surgeon Wisely for Your Hair Restoration Journey
Keep in mind that the success of any hair transplant procedure ultimately depends upon the experience, skill and integrity of the surgeon. Dr. Barusco's long list of accomplishments, his notable artistic ability and his successful surgical team make Tempus Hair Restoration a renowned practice. Contact us to schedule your free virtual consultation. Dr. Barusco conducts every consultation himself, giving you the opportunity to learn your options in the comfort of your home – or any location, on any internet-enabled device.
Dr. Barusco conducts consultations in English, Spanish and Portuguese. For your greater convenience, Tempus Hair Restoration offers a two-night complimentary hotel stay to out-of-town clients who travel 100 miles or more to our Port Orange, Florida, surgical center. No matter how far the distance, we welcome the opportunity to help you on your hair restoration journey!