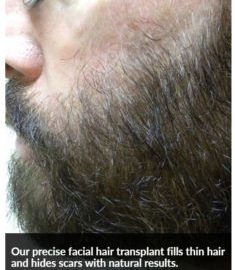 Missing Out On "No Shave November"?
Have you always felt left out of "No Shave November" because you weren't able to grow a full beard? Well, now is the time to consider a facial hair transplant so you can experience what all the hype is about!
At Tempus Hair Restoration, Dr. Marco Barusco is not limited to performing hair transplant procedures just on the scalp. Beard, mustaches and side-burn procedures are becoming very popular for those that want a fuller, more defined look.
Went "Tweezer Happy" Too Many Times?
Sick and tired of penciling in your eyebrows every day? You're not alone! Many people are choosing to reconstruct their once natural look with a facial hair transplant. In fact, the most common area for hair transplants, other than the scalp, is the eyebrows. Your eyebrows are a very important facial feature and are one of the few ways you visually express emotions.
If you've lost yours due to a disease, a scar or a cosmetic choice that you now regret, Dr. Barusco and his team can help give you the look that you desire. We even treat patients with tattooed eyebrows that are now fading and discoloring.
The Tempus Hair Restoration Difference
It is important to know that techniques used in facial hair transplants are different from the ones used for procedures on the scalp. You need a specialist like Dr. Barusco who posses artistic
experience and pays close attention to detail. That includes taking the time to plan the angle and direction of hair for the most natural looking results. Dr. Barusco understands how hairs from different areas of the body behave, and he has the skill and artistry to harvest the hairs that are the best match.
If you would like to fill in gaps or have scars that could be hidden by facial hair, don't cut corners with a less experienced practice.
Contact us for more details at 877-877-5200.