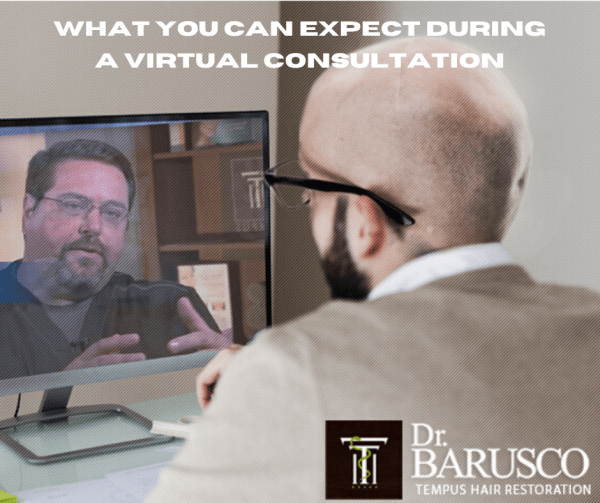 The COVID-19 pandemic has resulted in major upheavals in many areas of life. In certain situations, a trend or practice that was already well under way was greatly accelerated. During the time that the State of Florida temporarily suspended elective surgeries, Tempus Hair Restoration encouraged those seeking a hair restoration procedure to schedule a virtual consultation with Dr. Marco Barusco – Tempus Hair Restoration's Founder and Chief Medical Officer.
Although we are now scheduling surgeries to be performed in our Port Orange surgical center, our practice continues to emphasize the advantages of a one-on-one virtual consultation. Dr. Barusco has been a pioneer in conducting virtual consultations. Unlike many other practices that are relatively new to video conferencing, Dr. Barusco is experienced in providing a diagnosis that is just as accurate as an in-office visit, as well as determining the best treatment plan for the patient's hair loss. As is the case with our in-office consultations, there is no fee for a virtual consultation.
Of course, experience and the trained eyes of a surgeon make a difference in the quality of the diagnosis a patient receives during a virtual consultation. During one such consultation, Dr. Barusco observed that the prospective patient – a male seeking an eyebrow transplant – had no hair on his arms. Dr. Barusco recognized this as an indicator of Alopecia Universalis, an autoimmune disorder.
Unfortunately, for this reason, the patient was not a candidate for the procedure he had wanted. However, he was spared the considerable expense, discomfort and inevitable disappointment of a failed procedure – which he perhaps would have undergone had he teleconferenced with a less-experienced, less-skilled surgeon.
You may be wondering what you can expect during a virtual consultation. We are taking this opportunity to explain the process step-by-step so that you'll be prepared to make the most of your time with Dr. Barusco.
How can I schedule a virtual consultation?
Simply call us at 877-877-5200 or visit our website, www.hairdoctorflorida.com.
What is the next step? Will a Tempus representative call me?
If you request an appointment via email, a Tempus representative will contact you to schedule.
Do I need to choose which video conferencing platform I want to use before the consultation?
We use Doxy.me – the industry's leading telemedicine platform. It is compatible with Android and Apple devices. Doxy.me complies with HIPAA, GDPR, PHIPA/PIPEDA and HITECH requirements, providing you with complete privacy and security of your personal data. You do not need to download software to use Doxy.me.
What is the best setting for a virtual consultation?
We recommend a well-lit room, which will allow Dr. Barusco the best condition for assessing your scalp.
How does the virtual consultation begin?
You will first meet with our patient educator, who will discuss the science behind hair loss and all treatment options. When this is concluded, you'll meet with Dr. Barusco.
What kinds of questions will Dr. Barusco ask?
Dr. Barusco will ask about your medical history and the details of your hair loss. He will then perform an examination of your scalp.
Will Dr. Barusco recommend a treatment plan?
Yes. You will not have to wait for a diagnosis or treatment plan. These will be discussed with you during the virtual consultation. Unlike some hair restoration practices, Dr. Barusco is the only one who will make treatment recommendations or a treatment plan.
As we always emphasize to prospective patients, non-medical personnel should never tell you what you need – either surgery or not – since this is medical advice and offering it without being a doctor, nurse practitioner or physician's assistant is considered practicing medicine without a license – which is a crime in the State of Florida.
Will I be able to make plans to schedule treatment at the end of the consultation?
If Dr. Barusco recommends a procedure, the patient educator will discuss the next step for scheduling, cost of treatment and financing options. We do not pressure prospective patients into making an immediate decision. We believe that our services and results are the best you can find, so we are confident that you will let us know when you are ready to proceed, should you choose to do so.
The advantages of virtual consultations
While virtual consultations and telemedicine (the use of telecommunications technology to provide real-time health care to patients at a distance) are receiving great attention during COVID-19, they've been trending upward well before the pandemic. For our prospective patients, the convenience of receiving a one-on-one consultation with Dr. Barusco – no matter where they are in the world – is a major benefit.
An internationally renowned hair restoration surgeon responsible for developing such innovative procedures as the No-Shave FUE, Dr. Barusco includes the following among his many credentials during his 23-year career:
Leadership positions on the American Board of Hair Restoration Surgery (ABHRS) and other professional associations.

Assistant Professor of Surgery, University of Central Florida College of Medicine.

Global Clinical Scholars Researcher, Harvard Medical School.

Clinical Partner of HairClone

®

, a biotechnology company based in England, UK, which is conducting research to bring hair rejuvenation and regeneration into routine clinical practice. Dr. Barusco is one of only five United States-based physicians who is a partner, and the only one in Florida.
There is no need for distance to be a factor in your decision. You can consult with Dr. Barusco from the comfort of your home. Tempus Hair Restoration offers a two-night complimentary hotel stay to out-of-town clients who travel 100 miles or more. Dr. Barusco conducts consultations in English, Spanish and Portuguese.
Our message to you
We want everyone to stay safe and stay positive during these challenging times. We are glad to again have the opportunity to help our patients achieve the results that will improve their self-image and self-confidence. Contact us to schedule your free virtual consultation, and get ready to move forward!