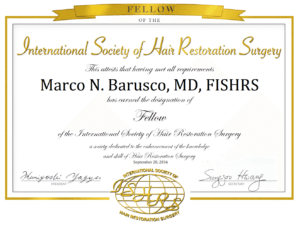 Dr. Barusco recently received the designation of Fellow of the International Society of Hair Restoration Surgery (ISHRS). The ISHRS is the largest professional association dedicated to hair restoration surgery in the world. It has thousands of members worldwide.
Is the ISHRS Fellow Category Available for Everyone?
To be accepted for the Fellow category of membership, a member has to pass a vetting process. He or she must demonstrate commitment and dedication to the specialty. This can include serving in committees and leadership positions in the ISHRS. Also, if the candidate has achieved diplomate status with the American Board of Hair Restoration Surgery, it is a plus. Currently there are only about 100 members worldwide with the Fellow designation (less than 10% of all ISHRS members). Thus, this is an important distinction.
Dr. Barusco's History with the ISHRS
Since joining the ISHRS, Dr. Barusco has served in many committees. To name a few, he acted as Co-Chair and Scientific Coordinator for many editions of their most traditional educational event, the Orlando Live Surgery Workshop. Also acted in the Planning Committee of many of their Annual Scientific Meetings, and Chaired important events such as the Beginners Course, the Morbidity and Mortality Conference,  and the Advanced/Board Review Course. Moreover,  Dr. Barusco has been a prolific writer with an important column in the ISRHS' official peer reviewed publication, the Hair Transplant Forum International. The column is entitled "Complications and Difficult Cases", and in in Dr. Barusco analyzes complicated cases performed by him or submitted by other doctors, in order to educate others in these issues.
I am extremely happy to have done enough to be awarded this important distinction. Thank you to the ISHRS for recognizing my contributions. It is a great honor for me. – Dr. Marco Barusco.
Join us in congratulating Dr. Barusco in this important achievement.