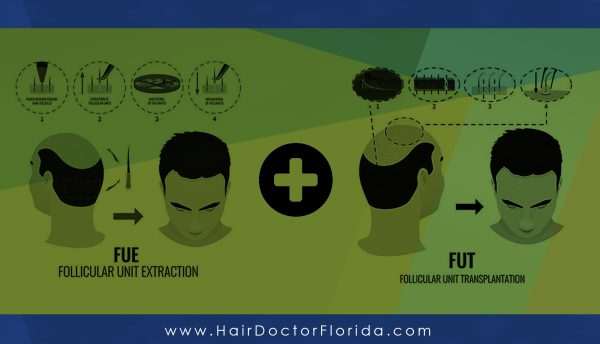 Just as in other fields of medical science, advancements are constantly being made in hair transplantation surgical procedures. Since the late 1930s, techniques have continued to evolve, becoming more refined to give those with advanced hair loss better, more natural-looking results. The well-known and proven Follicular Unit Excision (FUE) and Follicular Unit Transplantation (FUT) procedures each can be the best surgical solution for an individual patient. However, combining the two procedures has great advantages. Tempus Hair Restoration offers this combined FUE and FUT procedure, which Dr. Marco Barusco has performed on an ongoing basis over the years – and also teaches to hair restoration surgeons throughout the world.
The FUE and FUT combined technique has the potential of providing the most donor hair at once, and can be a good option in such situations as the following:
When a very large number of grafts are needed. Combining both techniques can provide the desired number of grafts in one procedure, versus having to do multiple ones as it is the case in most practices.
When the goal is to improve a bad scar from a previous FUT procedure while harvesting grafts.
The advantages are twofold. In addition to achieving the maximum amount of coverage possible, the combined FUE and FUT technique allows the patient to have the entire procedure performed in a single surgery. Typically, patients with more advanced hair loss must undergo several hair transplant procedures, having to wait one year or more between.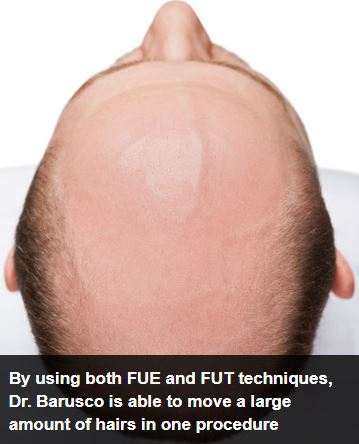 Most practices – especially those that just offer FUE – can transplant only a certain number of grafts during one procedure. By using the combined FUE and FUT technique, we are able to cover large areas of baldness at one time. This allows patients to achieve their goal much sooner, without repeated periods of healing between multiple procedures. Depending upon the patient's type of hair loss, Dr. Barusco may also customize treatment to include stem cells therapy and PRP/ACell.
While the combined FUE and FUT procedure is gaining an increasing amount of "buzz" in the national media, it should only be performed by a surgeon with an excellent track record of minimal scarring and considerable experience and expertise in hair transplants. Relatively few are qualified to perform it, and for its perfect execution, it also requires an experienced team of assistants. Dr. Barusco – founder and Chief Medical Officer of Tempus Hair Restoration – is a board-certified surgeon who is internationally recognized as a leader in hair restoration. In addition, the nursing staff at Tempus Hair Restoration has been working with Dr. Barusco for over 15 years, and are some of the most experienced in the world.
Dr. Barusco's many credentials include: Diplomate and Past President (2017) of the American Board of Hair Restoration Surgery; Assistant Professor of Surgery – University of Central Florida College of Medicine; Fellow of the International Society of Hair Restoration Surgery (ISHRS) and Fellow of the American Academy of Cosmetic Surgery (AACS). He most recently received American Registry's America's Most Honored Professionals 2018 award and was recognized as being in the top one-percent of this distinguished group.
Unlike the staff structure at most other practices, Dr. Barusco performs every surgery himself – never utilizing an assistant or technician to perform this exacting procedure – focusing on one patient at a time. However, technical expertise in and of itself doesn't necessarily produce an aesthetically pleasing result. Dr. Barusco brings an exceptional sense of artistry to each procedure to achieve the effect of healthy, naturally growing hair. He is Chief Editor (Hair Restoration section) of the American Journal of Cosmetic Surgery (AACS) and Adjunct Faculty for the AACS' Fellowship Training Program in Facial and General Cosmetic Surgery, attesting to his outstanding credentials in the area of aesthetic surgery.
We invite you to access Dr. Barusco's Curriculum Vitae on our website, and be assured that you will be in the care of the foremost surgeon in the hair restoration field. Dr. Barusco conducts all consultations (both in-office and virtually) and performs all hair transplantation procedures. Should you be reading this article outside of the areas served by our 14 offices throughout Florida, we can help you by offering a virtual consultation with Dr. Barusco and by making travel and accommodation arrangements for your procedure. For your convenience, consultations are offered in English, Spanish and Portuguese.
Contact us for a free, no-obligation consultation to learn if the combined FUE and FUT procedure is the right treatment for your type of hair loss. We are here to help you obtain the best results so that you can enjoy the level of self-confidence you deserve.