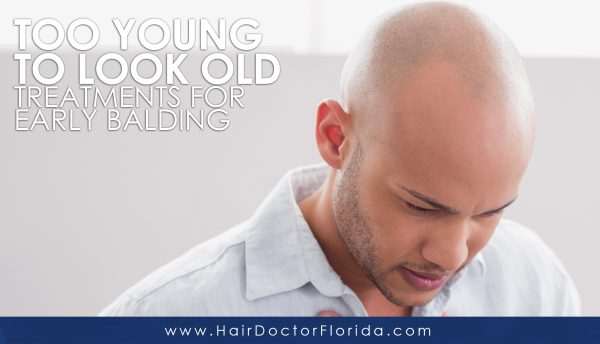 Too Young to be Bald – New Hope for Early Hair Loss Patients
The beginning of young adulthood is a time that should be spent enjoying the experience of learning, socializing and finding one's own way in the world. Yet some embarking upon this vital stage of life are suffering with premature hair loss, and its resulting negative impact on self-image and self-confidence. Until recently, there was little that hair restoration science had to offer to stop the process and promote healthy growth. But now, renowned hair transplant surgeon Dr. Marco Barusco – Founder and Chief Medical Officer of Tempus Hair Restoration – reports that many cases of hair loss in adolescents and young adults can be successfully treated thanks to a combination of breakthrough stem cell therapy and medical treatment.
Not so long ago, says Dr. Barusco, the only course was to consult with the patient – and his or her parents, if a minor – then treat with prescription-strength topical medications, sometimes combined with oral medications and lasers, and monitor the progression of hair loss over time. Unlike the average age of 30 for male pattern baldness (androgenetic alopecia) to begin, younger patients are poor candidates for hair transplant surgery because areas needing hair could drastically enlarge as hair loss progresses over time, while the limited available number of donor (permanent) hairs that could be used for transplants would diminish as more were taken to keep filling the advancing hair loss.
"I see many young men and women in consultation for hair loss during their high school and early college years," Dr. Barusco says. "Invariably, they are greatly affected by their hair loss and have expressed their concerns to their parents, who then take the initiative to look for a solution."
Stem cell therapy provides new hope for many young patients dealing with the aesthetic, emotional and social consequences of early hair loss. Administering this therapy allows Dr. Barusco to provide a proactive approach aimed at slowing down the progression of loss, rather than waiting for loss to stabilize before performing transplantation surgery. Simply stated, stem cell and PRP therapy relies on the patient's own natural supply of growth factors and stem cells, obtained from blood and fat tissue. The stem cells and growth factors are processed and concentrated, then injected into the scalp to help hair grow stronger and fuller.
However, it's important to know that not all stem cell therapies are of equal quality and effectiveness. Tempus Hair Restoration is the first dedicated hair restoration practice in Florida to offer stem cell hair loss therapy using a combination of Platelet Rich Plasma (PRP) and Stromal Stem Cells (SVF). This is the most advanced technique for processing stem cells and growth factors, and is fully regulated by the FDA. The strict protocols and sterilization procedures followed by Dr. Barusco and his staff ensure the safest, highest quality concentrate of PRP/SVF stem cells available.
Says Dr. Barusco, "One of the most interesting and effective treatment options we have now is the PRP/stem cells procedure, which is safe and effective in slowing down hair loss and makes thinning hair stronger, while not causing any permanent change in the patient's appearance like a hair transplant would."
In addition to promoting growth, stem cell therapy is especially suitable for adolescents and young adults because the in-office procedure involves no downtime. Regular activities such as attending school or sports participation can be resumed immediately after treatment. It's also equally effective and convenient for young women experiencing thinning hair or non-pattern baldness. While more rare than early balding in males, female hair loss in the teen years and early 20's is even more likely to be emotionally devastating.
In addition to the PRP/Stem Cells treatment, Dr. Barusco advocates the use of long-term treatment with medication. Depending upon the patient and his or her situation, the prescription treatment may consist of Finasteride (brand name Propecia), Minoxidil (brand name Rogaine), and/or the nutritional supplement Viviscal® Pro, which contains special marine extracts and a silica compound that has been scientifically studied and shown to have a positive effect in stimulating hair growth and assisting in the reversal/prevention of hair loss. The wear-anywhere Capillus RX 312® laser therapy cap may also be recommended.
The length of treatment also depends upon each individual. "There is no set timeline," Dr. Barusco says. "We want to put young patients on as many proven and safe treatments as we can in order to increase our chance of success in slowing down their hair loss. Young women should not be treated with Finasteride, so for them we have other medications that are effective and safe. These treatments work synergistically, so they complement each other."
Dr. Barusco's commitment to leadership in stem cell treatment continues. He is a member of the research team for the STRAAND clinical trial. This FDA-regulated study aims at documenting the effectiveness of the PRP/Stem Cells treatment so that it can be standardized. Dr. Barusco is one of only four hair restoration surgeons nationwide on the team – and the only one based in Florida.
If early hair loss is affecting you or a family member, schedule a free, non-obligation consultation with Dr. Barusco. Whether you visit one of Tempus Hair Restoration's 14 locations in Florida, or have a video conference, you will be evaluated and diagnosed personally by Dr. Barusco – never an assistant or a non-medical person. The sooner that treatment begins, the more successful the outcome. You have a future filled with great opportunities. Make the most of them with confidence!