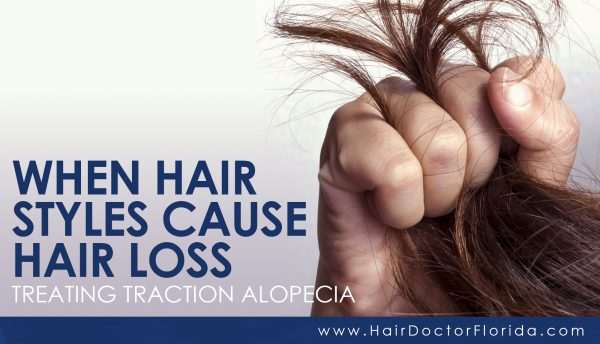 Non-genetic hair loss can be a confusing, frustrating condition. Unlike hereditary hair loss, other types occur for a variety of reasons. Some can be prevented, while others – such as alopecia areata (which is caused by an autoimmune disorder) – are unpredictable in their occurrence. However, some types of non-genetic hair loss are inadvertently caused by the sufferer – ironically, because she or he wants to look their best, yet uses damaging hairstyling techniques over the long term.
Dr. Marco Barusco – Founder and Chief Medical Officer at Tempus Hair Restoration – shares his knowledge and advice about the numerous types of hair loss within this category, and how to recognize if your hairstyling regimen may make you susceptible to some of these conditions.
There are five main types of non-genetic hair loss that Dr. Barusco sees among his patients.
Traction alopecia is the most common, followed by alopecia areata. Lichen planopilaris (LPP) is also very common, particularly in women. Central centrifugal cicatricial alopecia (CCCA) and frontal fibrosing alopecia (FFA) are variants of LPP, and are seen very frequently in Tempus Hair Restoration's practice.
Traction alopecia – This type of hair loss is almost always the direct result of hairstyles that place excessive amounts of tension on the hair shafts – such as tight braids, cornrows, dreadlocks, weaves and heavy hair extensions. Such styling practices exert constant tension, pulling the hair and damaging the follicles over time. Hair production will slow, and eventually cease. Traction alopecia generally affects the hairline, causing hair loss around the front of the scalp and at the temples.
Alopecia areata – As previously mentioned, this condition is hair loss caused by the immune system attacking hair follicles. Hair falls out in round patches on the scalp and/or elsewhere on the body. Contrary to popular misconception, it is not caused by anxiety. Hair may eventually grow back, but fall out again.
Lichen planopilaris – Also known as lichen planus follicularis, this is the specific name given to lichen planus of the scalp. It looks like bald patches that can expand and join together over time. The condition develops slowly, but if left untreated, the inflammation will eventually destroy the hair follicles and result in permanent hair loss. However, inflammation isn't always present, making it difficult for the sufferer to identify LPP.
Central centrifugal cicatricial alopecia – This is a variant of LPP that is also known as follicular degeneration syndrome. Hair loss from CCCA occurs mainly in the central part of the scalp, radiating outward in a circular pattern. CCCA causes destruction of the hair follicles and scarring, leading to permanent hair loss. Although once thought to be only caused by the use of hot combs, excessive heat and hot oils on the scalp, chemical relaxers and excessive tension from braids or hair extensions, there is now evidence that heredity plays a role.
Frontal fibrosing alopecia – Also known as "scarring alopecia," this condition causes hair loss primarily over the hairline at the front of the head. Like CCCA, it is a variant of LPP. FFA causes inflammation that destroys the hair follicle, replacing it with permanent scarring. It affects mainly post-menopausal women. While the cause is unknown, hormones and autoimmune factors are being researched as possible reasons.
Who is susceptible to these types of non-genetic hair loss?
Most of these non-genetic types of hair loss predominantly affect women – with traction alopecia and CCCA more commonly seen among African American women, and FFA and LPP more predominant among Caucasian women. However, African American men who wear tight braids and dreadlocks can also experience traction alopecia and CCCA, as these conditions result from tension on hair follicles rather than hormonal factors. For this reason, people of all ethnicities who habitually wear their hair in a ponytail or tight bun may suffer these types of hair loss.
It is an unfortunate fact that braids and other styling techniques intended to protect African American textured hair and/or assist with length retention can cause hair loss. Known as "protective" styles, they are characterized by tucking the ends of the hair away from being exposed to damaging agents such as sun, heat and constant manipulation. The purpose is to grow healthier, longer hair by retaining length and reducing split ends, knotting and damage. Those experiencing hair loss from traction alopecia or CCCA may not make the connection between cause and effect until it is too late.
Our blog post of July 2018, "Advanced Treatments for Non-Patterned Hair Loss," shared the story of "J.D." – a patient of Dr. Barusco who sought treatment for traction alopecia caused by the weaves she wore to enhance her image of a polished professional woman in a highly competitive industry. After successfully restoring her hair to healthy growth, J.D. has forgone her former damage-inducing styles for a more natural look.
In discussing his traction alopecia and CCCA patients, Dr. Barusco says:
"I advise my patients to be careful not to pull their hair in tight braids and pony tails, and to avoid putting heavy extensions to prevent pulling on the hair roots. The repeated use of harsh chemicals (relaxers, for example) may also cause damage to the scalp and hair, so I recommend that they avoid these products."
What to look for – signs and symptoms
"Early signs of these conditions may include one or more of the following: scalp itching, bumps around the base of the follicles, patchy hair loss or pain," says Dr. Barusco.
As for treatments, Dr. Barusco notes that each patient's situation is unique.
"Treatments are individualized, depending on the stage and severity of the condition at the time of the diagnosis. Treatment may include steroid injections, topical lotions, oral medications or a combination of them."
A recognized leader in stem cells hair restoration treatment, Dr. Barusco is a member of the research team for the Irvine Institute of Medicine and Cosmetic Surgery-Orange County Hair Restoration's STRAAND clinical trials. This FDA-regulated study is investigating a breakthrough treatment for hair loss in adult males and females using the patient's own stem cells. Dr. Barusco is one of only four hair restoration surgeons nationwide on the team – and the only one based in Florida. The study may offer the possibility of new hope for treatment.
"One of the research studies we are currently doing is to determine if treatment with the Adipose-Derived Mesenchymal Stem Cells is effective to treat these conditions," Dr. Barusco reports.
Learn more about Tempus Hair Restoration
You are invited to learn more about the innovative surgical and non-surgical hair restoration procedures that Dr. Barusco offers at Tempus Hair Restoration – as well as schedule your free consultation. Early signs and symptoms of hair loss need to be assessed, diagnosed and treated by a medical specialist.
Dr. Barusco is a board-certified surgeon whose numerous professional credentials include Assistant Professor of Surgery – University of Central Florida College of Medicine; Diplomate, Current President of the Board of Directors for the American Board of Hair Restoration Surgery (ABHRS); and Member of the Board of Trustees of the American Academy of Cosmetic Surgery.
Contact us today to prevent further loss and restore your hair to a healthy state. Represent yourself to the world in your unique style, with the confidence to shine on!