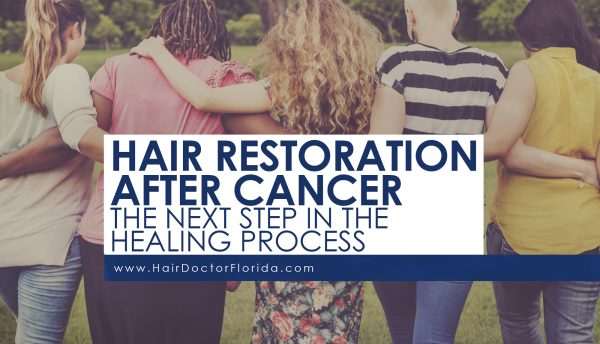 As we observe National Breast Cancer Awareness Month during October, we recognize the diagnosis of any type of cancer results in treatment that may consist of surgery,  chemotherapy, radiation or a combination of them. Patients experience an upheaval in their life and a drastic change in self-image from a healthy person to one suddenly engaged in their greatest battle. The hair loss that typically accompanies treatment may or may not be temporary, but studies show that it a is major concern for patients.
Fortunately, more people than ever now survive these diseases, many achieving complete cure after surgery and/or treatment. In the recovery process, hair restoration is increasingly being considered an important step, as it helps restore confidence and sense of well-being. Our team at Tempus Hair Restoration, led by Dr. Marco Barusco, feels privileged to help these patients reclaim their life.
For women, especially, hair loss is a dreaded side-effect of chemo and/or radiation therapy, and can be as traumatic as dealing with the disease itself. What may seem to be a vanity issue really isn't. We have a certain way we're used to seeing ourselves, and when your hair is gone, it's a very different face you see in the mirror. It's the most visible, public aspect of cancer treatment, and a constant reminder that can be emotionally difficult to deal with.
Dr Barusco Specializes in Post-Cancer Hair Restoration
As a board-certified surgeon with more than 20 years dedicated exclusively to hair restoration, Dr. Barusco has a depth of medical knowledge and experience not found with many other hair restoration specialists. Combined with the advanced hair replacement procedures and non-surgical treatments he utilizes (and in some cases, pioneered), Dr. Barusco is recognized as a leader in providing specialized care to post-cancer patients, and sees patients who were referred to him from the best cancer centers in the nation, such as MDAnderson, the Mayo Clinic, Florida Hospital and others.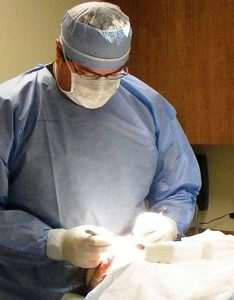 This specialized care begins with a surgeon's understanding of the very different effects that chemotherapy and radiation therapy have on hair follicles. Chemotherapy consists of a combination of different cancer-fighting medications – which vary depending upon many factors. It is most often given intravenously. Because chemotherapy works systemically (throughout the body) by slowing the growth of rapidly dividing cancer cells, it also inhibits the division of healthy cells that are intended to grow rapidly – which includes hair follicle cells. Hair loss is caused by the hair follicles' inability to continue a normal growth cycle during the course of chemotherapy.
Unlike chemo, radiation therapy targets a specific area, and uses high-energy particles or waves to destroy cancer cells. It may be used in conjunction with chemotherapy, or alone. Radiation therapy can burn the skin over the treated area, which may kill hair follicles. Higher doses of radiation can cause permanent hair loss.
Modern technology such as new chemotherapy drugs that are more specific and less damaging to hair follicles, targeted radiation, which minimized damage to surrounding tissues, including hair, and more tissue-sparing procedures have helped patients tremendously in their cancer treatment. Also, their scalp and hair follicles are more preserved, leading to less hair loss and more limited hair damage.
Hair loss from chemo often also affects the eyebrows and eyelashes. Hair typically begins to grow back after a resting period of approximately three months after treatment is completed. The hair may grow back differently than it was before treatment. For example, color or texture (curly or straight) may be different, or areas of regrowth may be irregular. While in many cases growth resumes after treatment, occasionally, as a result of extremely high doses of certain drug combinations, the loss will be permanent.
Dr. Barusco is a strong proponent of scalp cooling devices, which are used in certain chemotherapy centers to gradually cool the scalp during treatment, in order to limit the blood flow to the area and therefore preserve hairs from the harmful effects of the chemotherapy agent(s). These devices are becoming more and more popular, and if you are currently undergoing or will face chemotherapy, you should ask about their availability.
Because each patient is unique, evaluation of when hair restoration treatment can begin varies. If celebrating a cancer-free declaration by your oncologist means making plans to get your hair back to a full, healthy appearance, you should learn as much as possible about your options. It's important to know that the experience and skill of the hair restoration doctor you select will make a significant difference in the results you can expect.
Hair Transplant Procedures Offered by Dr. Barusco
Dr. Barusco offers a full variety of the latest hair treatments, including stem cell/PRP applications to promote hair recovery and procedures to cover bald areas caused by burns, radiation therapy and surgeries to the scalp and face. You many learn the details of each of the following on our website's page, Chemotherapy Hair Regrowth, which also covers post-radiation hair restoration:
Follicular Unit Excision (FUE)

No-Shave Follicular Unit Excision

Follicular Unit Transplantation (FUT)

Medical Treatments (includes prescription-strength hair restoration medications such as Propecia, Rogaine and other solutions)
Tempus Hair Restoration maintains the highest standards of disinfection and environmental services (EVS) in the operating room to ensure infection control – far above the measures taken by some other hair restoration practices. This is especially imperative for patients with a weakened immune system, which often occur from chemotherapy and/or radiation treatment. Your safety is always our foremost priority.
"I take the treatment of post-cancer patients very personally," says Dr. Barusco. "I have family members who fought this battle and know how stressful and difficult it can be. Patients who come to see me are looking for hope and for a solution, and we try to make this process as easy as possible. Every person in my team is very caring, nurturing and concerned with each patient, and that is extremely important to me. I want everyone to feel like they have an entire team on their side, working together to achieve our goals."
Some of the common questions patients ask when consulting with Dr. Barusco are: "Is my hair going to grow back like it was before?" "How long will it take for it to grow back?" "Are hairs going to grow once we transplant into these areas that are now bald and/or scarred from surgery and radiation?" "Are the treatments painful?" All of these questions must be asked, and if the patient does not ask them, Dr. Barusco and the Tempus Hair team always explain everything to each patient during their consultation. Once an individual plan is designed and its execution starts, Dr. Barusco and his team will monitor your progress very closely, and all patients have direct access to Dr. Barusco via his personal cell phone, so they can always reach him if needed.
Hair Transplant Success Stories
As your hair growth is monitored during follow-up visits, you'll find that you've become part of our Tempus Hair Restoration family. We do not take this word lightly. Our post-cancer patients share their joys, celebrations and personal milestones with us, and we cheer them on and continue to provide support.
One survivor of brain cancer wanted his hair back for his wedding day, and was proud to walk down the aisle to embark upon married life with his self-image restored.
Another moving story is of Mary P., a patient who had a brain tumor when she was a teenager. After surgery and radiation therapy, she was left with no hair on the back and sides of her head. Luckily, the hair on the top of her head was not damaged, so she could hide the bald areas. But she would never go swimming, and never wore her hair up, because of the visible hair loss. Now in her 40s and after a procedure with Tempus Hair, she has her hair back, and enjoys it every day.
Although one month has been designated to raise awareness of one type of cancer, all types of this disease will, unfortunately, continue to strike women, men and children throughout the year. But the medical weapons against it are becoming more effective, and more people are winning this battle.
Contact Tempus Hair Restoration of Florida
If you are going to face this battle, visit us for a consultation before you start treatment, so we can give you advice that may help protect your hair and minimize damage during treatment. If you have emerged victorious and are ready to take the next step, we are here to help you achieve the results you want. You may schedule a free, no obligation consultation with Dr. Barusco at one of our 14 locations throughout Florida, or by video conference, to learn your options. We look forward to meeting you, and helping you get the most from your new, cancer-free life!