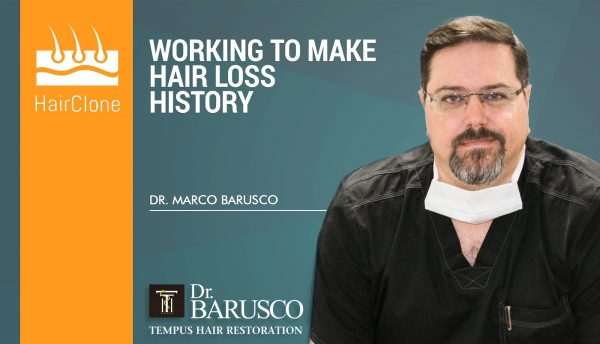 Today's surgical and non-surgical treatments to combat hair loss represent great advancements over those practiced during much of the 20th century. From the first hair transplant technique developed by Japanese dermatologist Dr. Shoji Okuda in the late 1930s to the innovative no-shave FUE transplant – as well as stem cell therapy – the current state of the hair restoration art allows greater natural-looking results than ever before.
But what advancements lie ahead? Dr. Marco Barusco – Founder and Chief Medical Officer of Tempus Hair Restoration – is at the forefront of research that promises exciting breakthroughs: the STRAAND clinical trials and HairClone®.
Dr. Barusco's unique background as a driving force in the hair transplant industry led to his involvement with these important endeavors. During his 12-year tenure as a key hair transplant surgeon and trainer at Medical Hair Restoration (MHR), he was heavily involved in its accredited Post Graduate Fellowship program. Dr. Barusco has held numerous leadership positions on the American Board of Hair Restoration Surgery (ABHRS), including Past-president of the Board of Directors in 2017.
Academically, he serves as Assistant Professor of Surgery for the University of Central Florida's College of Medicine. Dr. Barusco is also a member of various committees in the International Society of Hair Restoration Surgery (ISHRS) and an author of hair restoration textbooks. Recently, Dr. Barusco was accepted to Harvard Medical School's Global Clinical Scholars Research Training Program – a year-long postgraduate course in advanced clinical research, epidemiology and leadership.
The STRAAND Study – the next level of stem cell treatment
Tempus Hair Restoration was the first dedicated hair restoration practice in Florida to offer stem cell hair loss therapy using a combination of PRP (platelet rich plasma) and stromal stem cells (SVF). Going above the industry standard for such treatment, Dr. Barusco provides his patients with the most advanced PRP/SVF treatment currently available.
Dr. Barusco's high profile as a pioneer in stem cell therapy was instrumental to his inclusion as a member of the research team for the Irvine Institute of Medicine and Cosmetic Surgery-Orange County hair Restoration's STRAAND (Stromal Tissue-Cell-enriched treatment of Androgenic Alopecia via Novel Deployment) clinical trials.
This FDA-regulated study is investigating a breakthrough therapy utilizing next-generation stromal tissue cell-enriched treatment for androgenetic alopecia (AGA), and female pattern hair loss (FPHL). AGA accounts for more than 95% of hair loss in both men and women.
The STRAAND study is supported and sponsored by the ISHRS and Healeon Medical. Its primary objective is to evaluate the safety and efficacy (effectiveness) of cell-enriched biocellular regenerative therapy through clinical trials conducted among adult men and women. Participants (who pay to be in the study) will be evaluated throughout its course, and improvements documented.
The technical description of the clinical trial treatment is "a biocellular mixture of emulsified adipose-derived tissue stromal vascular fraction (AD-tSVF) and high density platelet-rich plasma concentrate (HD- PRP)." If trials are successful, this would represent the next level of stem cell treatment – as compared to the current adipose-derived cell-enriched SVF (AD-cSVF) + AD-tSVF and HD-PRP in the treatment of AGA and FPHL.
Dr. Barusco is one of four hair restoration surgeons nationwide on the research team – and the only one located in Florida. Unfortunately, a Florida hair restoration doctor has made false claims about being a member of the STRAAND clinical trials team. While Tempus Hair Restoration's legal counsel has been actively countering these claims, we want the public to be aware of the situation and know the facts.
Trial participants in the Southeastern United States report to Tempus Hair Restoration's Port Orange surgical center for treatment and regular monitoring. The entire study will last for approximately one year. A total of two treatments may be required.
The current PRP/SVF treatment has allowed Dr. Barusco to offer some of his patients greater options in treating hair loss. It can be of particular benefit to teenage and young adult patients, as well as to female patients. However, each case is different, and diagnosis and a subsequent treatment plan depend upon an examination by Dr. Barusco.
With the anticipation of a next-generation treatment, stem cell therapy will be able to help even more people restore their hair to a natural, healthy state – and as a result, improve their self-confidence and enjoyment of life.
Hair cloning – the dream is closer to reality
The battle against hair loss is almost as long as history itself, with the first account of recommended "cures" recorded in the year 1550 B.C.E. While great advancements have been made in surgical procedures and non-surgical treatments, the ability to clone human hair follicles to achieve complete coverage of the scalp with the patient's own healthy, full hair has been considered the ultimate victory. And Dr. Barusco is involved with the enterprise launched to attain this ambitious goal.
Dr. Barusco is a Clinical Partner of HairClone. Based in Manchester, England, this biotechnological company is dedicated to bringing hair cloning into routine clinical practice. Hair cloning would – in effect – disassemble a few hair follicles, multiply these cells in the laboratory and then reintroduce them into the scalp to both rejuvenate miniaturizing hair follicles and introduce brand-new hairs.
Recent scientific breakthroughs in the field indicate how human follicle cell culture multiplication systems could be developed. Dr. Barusco and HairClone's other accomplished Clinical Partners located worldwide will carry out clinical research in order to optimize the various systems required to make hair cloning a successful therapy.
As progress is being made, HairClone announced that it is ready to begin storing hair follicles at its partner tissue bank – which is recognized as the world's first follicle banking service. HairClone has perfected the process to extract viable cells from a person's hair follicles so they are able to be stored for further expansion (multiplication) for new hair growth when HairClone is set to begin treating patients.
The advantages of banking hair follicles now rather than later include ensuring a supply of viable follicles before hair loss advances, as well as to stop the aging process of the cells – so they will be younger at the time they're used to treat hair loss.
Do you want to make hair loss history?
The process for harvesting and banking hair follicles is in place. It consists of the following:
Free consultation with Dr. Barusco at one of Tempus Hair Restoration's 15 Florida offices to determine if you're a candidate for hair cloning therapy.

Extraction of 50-100 follicular units from your donor zone (area of permanent hair). This is a simple, outpatient procedure.

Preparation of follicular units (including freezing) by Dr. Barusco, and shipment to HairClone's partner tissue bank – which is licensed by the UK.

HairClone scientists will harvest and isolate the cells needed for cloning. These cells will be cryopreserved indefinitely for use upon final development of the process.
Once the hair cloning technology is ready for use, it will consist of micro-injection of expanded cells into the scalp to rejuvenate miniaturizing follicles, as well as induce new follicular structures. This process could be repeated every two to three years as the balding process continues by taking additional portions of the banked follicles and expanding them. At this time, patients will need to travel to England to receive treatment.
As the science and technology of hair restoration advance, more people than ever have hope of making hair loss a thing of the past. Dr. Barusco continues his dedication to the vital research that is bringing tomorrow closer.
To learn if you are a candidate for participation in the STRAAND clinical study or hair cloning therapy, contact Tempus Hair Restoration to schedule your consultation with Dr. Barusco.